by Meaghan Brophy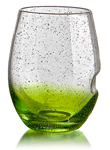 "We wanted to bring new looks to wine glasses," explains Vintout™ founder Raj Kondapalli, "we wanted to bring freshness to wine." Their original and most popular product is a 15oz stemless wine glass with a distinctly updated look. Each item is constructed out of bubbled glass for a textured and fun feel. "The bubbles make it more sparkling," says Kondapalli, "no matter what beverage is in them, or if it is empty or full." There is an ergonomic thumb notch, which makes the glass easy to hold. "Our design is unique," states Kondapalli. Their signature glasses also have a sophisticated thin-lipped edge. The wine glass is study throughout, but feels lighter at the top and has a slightly curved lip for better aeration when tasting wine.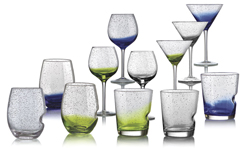 Their design and utility patent-pending stemless wine glasses have been such a success; Vintout™ has decided to expand their glassware collection. They now offer martini glasses, stemmed wine glasses, and shot glasses all based off of their original product. Their collections are available in traditional clear, as well as blue tinted, and green tinted options. This year, Vintout™ will be adding stemmed and stemless white wine glasses to their collection. These products will be the same as their red glasses with the bubbled look, thin-lipped edge, and ergonomic finger grip, however the dimensions will be adjusted for improved white wine tasting. Vintout™ also plans to expand their color selection with pink tined and purple tinted options. In addition to glassware, Vintout™ will be branching into wine accessories such as decanters, to provide a complete tasting experience
Currently, the clear stemless wine glass is their most popular product, and is available for purchase at Amazon. You can view their other popular products on their website www.vintout.com, which will soon contain an independent ordering system. Vintout™ is exhibiting at ASD Market Week, where their full array of products will be available for wholesale purchase. Their contemporary designer wine glasses are carefully built and fit easily in the dishwasher or cabinet. Vintout™ products also come with a 60 days manufacturer's warranty and a 100% customer satisfaction guarantee. "We keep moving forward, opening new doors, and doing new things," says Kondapalli, "because we're curious and curiosity keeps leading us down new paths." For more information and for updated inventory, call 1-844-484 6868.