Sizzling Sales with Summer Apparel and Accessories
Retailers, buyers, trendsetters and shoppers alike are all excited for the summer apparel and accessory season. Why? The warm-weather months always bring new, trendy and outgoing looks to the forefront of the fashion and apparel industry. 2017 is no exception. Coupled with soaring consumer confidence, retailers are primed for success when it comes to summer apparel and accessory sales. Richard Curtin, chief economist for University of Michigan reports "Consumers expressed a higher level of confidence in January than at any other time in the last dozen years." This assurance is echoed by The National Retail Federation, which predicts retail sales overall will grow between 3.7 – 4.2 percent in 2017.
While the summer months are not yet upon us, the buying season is in full swing. Take advantage of rising sales, record consumer confidence, and an overall positive economic outlook by stocking up on new and seasonal merchandise. Independent Retailer has scoured wholesale suppliers, fashion shows, and tastemakers to gather 2017's top summer apparel and accessory trends that can be incorporated into the inventory of almost any online or brick and mortar retailer.
White Wash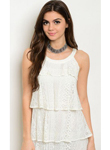 Naturally, white apparel is making a big splash in the summer season. While conventional wisdom tells us white is popular in the summer months because the color supposedly reflects heat, the tradition of wearing white in the summer actually dates back to the 19th century. During that time period, wearing white was a symbol of wealth and status. Major urban areas such has New York City were completely industrialized, meaning they were also heavily polluted by soot, waste, and smog. City goers, particularly factory workers, wore dark colors year-round to combat the polluted environment. For wealthier urbanites, summertime meant travelling away from the city and away from the smog and therefore, being able to wear white. Throughout the years even as New York City became cleaner, people clung to this tradition, which eventually spread into the mainstream. For 2017, white on white ensembles, shirt dresses, and flowing shapes are the must-have white apparel trends.
Cutouts, cold-shoulder, and off-the-shoulder tops and dresses are here to stay. Subtle or artistic slips of skin are taking the place of bare, plunging necklines and strapless tops. The classic cutout look dates back to the mod era of the 1960s. Today's version echos the '60s version with geometric midriff cutouts, delicate back cutouts, and sleeve detailing. This trend is a great seller for retailers because it's something girls and women of all ages are participating in.
You're Speaking My Language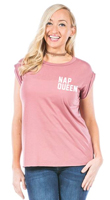 The new and improved slogan tee is making a comeback. Like many other fashion trends, the slogan tee sways in and out of style. The original slogan tee was born in the '60s and entered pop culture mainstream in the '80s. After taking a break, the slogan tee is re-entering the fashion arena. Instead of name brands or status symbols, the 2017 version of the slogan tee features fun, playful, and sassy sayings. This trends is also not limited to t-shirts: wordy hats, sweatshirts, and even pants and shoes are making an appearance.
Bed of Roses
Though floral prints of one kind or another have been in vogue since before the Industrial Revolution, the exact style, colors, and patterns of floral vary greatly season to season. Floral day dresses in pastel and muted tones were seen throughout New York Fashion Week's summer show back in September, and will no doubt be the popular floral go-to for this season.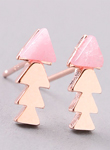 Color Me Accessorized
For the past several years, rose gold, turquoise, and pastels have dominated the summer fashion jewelry market. 2017 shows no signs of breaking that pattern. In addition to jewelry, sunglasses are a top seller for all retailers during the summer months. Classic aviator and wayfarer styles are still popular, however the cat-eye silhouette is making a comeback. Colorful lenses in shades like blue, yellow, and green are taking the place of traditional all-black styles.
Bag charms and pom-pom keychains are currently selling really well, and are expected to maintain momentum throughout the summer months.
Now that you have some key trends to incorporate in your inventory, it's important to merchandise for success. Many customers may come in knowing exactly what they want, some may be open to suggestions, and some could wander in without any idea. Help your shoppers out and display your new styles by putting together outfits and mannequin displays that blend your staple items with your new products. As a retailer you know your shoppers and you know your clientele. Have them in mind when piecing together ensembles throughout the store. Instead of separating all tops on one side of your store and bottoms on another, sprinkle them together to help spark ideas and creativity within your shoppers.
Don't forget to incorporate your accessories into your mannequin and model displays. Nothing sells summer better than summer itself. Sunglasses, sandals, colorful jewelry and add-ons are easy impulse purchases that can easily beef up your sales and provide great value to your customers.
Ultimately, when buying summer apparel and accessories for your store, keep in mind these two words: value and variety. Branching out into new trends while continuing to stock your best-selling items and basic apparel staples will help ensure you have something for everyone. Summer is the perfect time to experiment with new looks, brighter colors, and fun accessories as consumer are naturally more adventurous with their styles this time of year. Offering a good value or discount helps draw in the impulse buyers. All items featured in this article are available through our wholesale partners on Wholesale Central. Take advantage of ordering these warm-weather items to make sure you're receiving the best value for a profitable summer season.
For these items and more, visit www.WholesaleCentral.com.