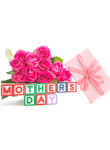 Mother's Day comes but once a year. Friends and family gather together to celebrate the mothers, grandmothers, partners and expectant mothers in their lives. With these celebrations come flowers, brunch, cards, and gift giving. According to the National Retail Federation, as of 2016 spending on Mother's Day totals over 21 billion dollars, up from just under 15 billion in 2007.
After greeting cards, flowers, and special outings, gift cards are the most popular gift for Mother's Day. Each year Americans spend over 2.2 billion dollars on gift cards for mom. Make the most of gift card sales with these simple tips:
1. Be Visible
If your gift cards are kept hidden behind the register or are hand-written on demand, you're not setting yourself up for success. It's important to have a holiday-specific gift card display showcasing different card options, package suggestions, or promotional deals.
Purchasing a gift card display for your checkout area along with printing some promotions and Mother's Day advertisements are quick and inexpensive solutions that give your shoppers more incentive and your store more personality.
2. Be Available.
70 percent of shoppers are still doing their Mother's Day shopping in-person, which is great news for brick and mortar retailers. However, that also means roughly 1 in 3 shoppers are purchasing online and on their mobile phones. Don't lose out on 30 percent of your sales by not offering gift cards online. There are many gift card management services available for small businesses so it should not be difficult to find one that is compatible with your POS system.
3. Be Persuasive
Set goals for your store and your team for how much revenue you would like to bring in from gift cards this Mother's Day season. Then determine how many shoppers or transactions you are expecting around the holiday. From there, you can determine what average dollar amount you should strive to sell on each gift card. Use that goal to structure promotions and sales. For example, a free $25 gift card with $125 gift card purchase will help you reach a $75 average gift card sale. Make sure all employees know your goal and inform each and every shopper about your Mother's Day promotions.
Having a clear goal, accessible gift cards, an attractive display, and a clear value proposition will help boost sales this Mother's Day shopping season. Now that you have your gift card strategy in place, take your sales and customer experience to the next level.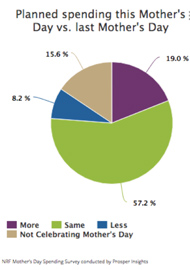 Don't Forget Greeting Cards
Roughly 80 percent of consumers pick up a greeting card for mom. Greeting cards are an easy low-cost investment. Cards can have wholesale prices of as low as a quarter and margins as high as 80%. Most greeting card wholesalers offer seasonal and holiday-specific assortments and displays. They are stress-free add-on sales for your store that can save shoppers an extra trip. It's not too late to order a stand-alone rack or counter display.
Wrap it Up
While you're offering the perfect gifts, gift cards, and greeting cards; make it a package deal with gift-wrapping. The packaging can be simple and bought in bulk. But the thoughtful gesture means a lot to consumers, as they will have one less thing to worry about. Be sure to include promotional materials in the wrapping whether it's a simple business card, details for an upcoming sale, or information on an event you're hosting.
Mother's Day is an emotional celebration for many. Retailers who make the gift-giving process as convenient, thoughtful and hassle-free as possible will come out on top, and be remembered year after year.