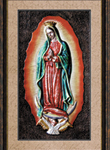 One of the latest trends sweeping the art world is three dimensional art, which makes Western Sales and Marketing uniquely positioned to supply this rapidly growing area. The company's National Marketing Director, Gary Chandler, says he's never seen any product sell as quickly as his. "I first saw the product in China and was intrigued by it," he recalls. "So I purchased a quantity and brought them back with me. I was selling 50 to 70 pictures a day at the Santa Fe Springs Swap Meet in 2009," he says. Convinced that the company had a hit on its hands, Western Sales made an investment in the factory in China that was producing the art, and in return got an exclusive deal to market the products.
Today, Western Sales supplies numerous gift stores, boutiques and swap meets with the colorful, framed artworks. "It was a big hit at the California Gift Show at the Los Angeles Convention Center in January," Chandler says. "We sold upwards of 5,000 pieces." The artwork consists of beautifully framed three dimensional art in a shadowbox frame, creating amazing depth to the artwork itself. "This is not your standard art, which is flat," Chandler explains. "The 3D art actually sticks out from the image and comes toward you, so you see the sides of the face, the nose and everything. It's almost like a statue on the wall," he adds. Currently carrying about 100 different types of 3D art, Chandler says the religious themed art is far and away the company's bestseller. "If I had to name a single piece, I'd say The Virgin of Guadaloupe is our number one item," he says, adding, "Religious items are about 75 percent of our total sales." Still, the company has an extensive line of other art pieces, and all are available for viewing online at 3DFramedArt.com.
The artwork varies in wholesale pricing depending on size, but Chandler offers up an example. "We have an 18" x 30" piece of art, with glass and a double mat in a shadow box with a two inch border frame, that wholesales for $10," he says. "It retails for at least three times that, and can go for much higher." A minimum order is only one case, but as the company ships by freight, "It makes sense for a customer to order a full pallet load," he says. For new customers, Western Sales and Marketing offers a 50 percent off deal on first orders. "We also allow dealers to use our color catalog, customized with their contact information," Chandler says. "We email it to them, and they can add in their own contact information and prices. We'll do everything possible to help them boost sales."
For more information:
Western Sales
13539 ½ Alondra Blvd.
Santa Fe Springs, CA 90670
Tel.: 562-483-8700
Fax: 562-483-8710
Email: sales@3dframedart.com
Website: www.3dframedart.com