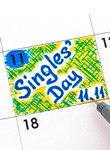 Singles' Day is a Chinese holiday celebrating, you guessed it, bachelor and bachelorette pride. The celebration is held every year on November 11th (11/11) specifically chosen because the date only contains the number "1." Though this holiday is relatively unknown in the U.S., its the largest shopping day on the planet. For comparison, Singles' Day sales double those of Black Friday and Cyber Monday combined.
Singles' Day started in 1993 at Nanjing University as a way for single people to party together and initially was only celebrated by men. Some say it started as a counter-culture movement rejecting the sentimentality of Valentine's Day. Slowly the celebration expanded beyond universities and entered the mainstream as a coed holiday. When the celebration entered pop culture, retailers and marketers took notice.
Today, Singles Day is seen as a day to treat yourself, splurging on wishlist items and binge watching television shows. Alibaba, the Chinese ecommerce conglomerate, is behind most of the recent marketing for this holiday. This year, Singles' Day raked in $25.3 million in sales for Alibaba, a 39 percent increase from last year. About 90 percent of those transactions were done through mobile.
Amazon has tried to replicate this phenomenon with Prime Day. Overall, many larger retailers are starting to lean away from traditional shopping holidays and lean into invented holidays. This is beneficial for many reasons. Many retailers rely on Black Friday and December sales to take their businesses from the red to black. By creating more popular shopping days throughout the year, retailers no longer have to place all their eggs in one basket.
Alibaba has plans to expand Singles' Day, including their televised celebrity gala, shopping event, and brand partnerships in the coming years. The shopping holiday already reached 190 countries worldwide. Of course, the day is popular with consumers, too. US independent retailers would be wise to start promoting the event and be at the forefront of this soon-to-be-global trend. But, the larger message is that retailers, large or small, should not confine their business promotions to traditional retail holidays. By keeping your finger on the pop culture pulse and staying in tune with your shoppers' needs, you can give them a well-timed excuse to treat themselves any day of the year.