By IvyLee Rosario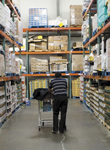 When it comes to liquidation merchandise, there are a great deal of options out there for a business owner. From selling excess inventory to buying pallets and truckloads on the secondary market, a retailer needs to know what their best options are before diving head first into the liquidation industry. With Liquidation.com, a three-channel approach ensures the right fit for each of their clients.
"Liquidation.com works by starting with a client meeting consulting approach," says Jim Rallo, President of the Retail Supply Chain Group at Liquidity Services. "We work with retailers that want a long-term partner and a long-term solution to their store returns and shelf-pulls and any other product they need to liquidate." After meeting with their clients, the three business channels are examined to decide the client's best course of action. These three effective channels include selling refurbished goods directly to consumers, selling goods via B2B bulk sales auctions, and direct sales, or selling merchandise by the truckload.
The flexibility of the three-channel approach is designed to fit the specific needs of each type of retail owner. The first option for businesses offered by the Retail Supply Chain Group is Secondipity.com, which operates as a straight to consumer selling market for refurbished items. "When moving this product, typically with products like consumer electronics, which can be of a higher value, we like to have those inspected, refurbished and have the data wiped off of them," says Rallo. "This is a service we provide to ensure there is no longer any personal information on any consumer electronic item. Then we typically can sell those products directly to consumers as refurbished second items."

Next up is Liquidation.com, a channel made up of 2.9 million business buyers, where product is sold in bulk in an auction forum. "These products are sold on a per unit basis, less valuable, but then we put a lot of units into that bundle to create a higher value lot that is for sale," says Rallo. "That is an auction marketplace, the buyers are setting the price so it makes them feel like they are paying a fair price for the product."
The business-to-business Liquidation.com marketplace has grown by ten to fifteen percent annually over the past decade. If you are looking to sell or buy consumer electronics, apparel, or household effects, you will become a part of the top selling categories on the site. If you find that buying via an auction lot is not your preference, there are opportunities to buy directly instead, either online or by phone. "We provide a high level of customer service," says Rallo. "We have over one hundred people in our customer service department that you can chat with, email or call and talk to a live person. We are not just a website."

The last channel available to business is what Liquidity Services calls Direct Sales. This tactic targets large buyers that buy full truckloads of merchandise. Depending on what market you are looking to join, Liquidity Services will help narrow down your options.
"The reason that this is important for retailers and manufacturers is that you want to have a trusted partner that is going to make sure there is no consumer information data getting out to the marketplace," says Rallo. "They need someone who has three different channels so you can maximize the value of the product based on its condition. You also want to have someone that has a nationwide footprint of distribution space."
Liquidity Services manages millions of square feet around the country, making it easier for their clients to ship product to their distribution centers. They handle manifesting, inventory control and de-labeling services for their clients, and pride themselves on their excellent customer service.
"We will work with you to make sure you are happy with the product you receive. It is about a trusted partner, not only to the sellers, the large retailers, but the independent and smaller buyers; we make it easy for them," said Rallo. "We have got all the shipping logistics and we are full service, always making it easy for the buyer."
For more information on how your store can benefit from buying or selling liquidation merchandise, contact: