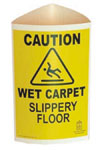 When it comes to passing inspection in the home or on the job, White Glove Cleaning makes the grade with its premier line of high-quality, time saving, protective cleaning tools and accessories, previously available only to carpet cleaning professionals. Now selling wholesale to retailers as well as direct to consumers, the company is on the verge of introducing its newest effort in the form of heavy-duty, disposable trash can liners for 96 gallon curbside cans. "Our trash can liners reduce odor, germs and dust, and leave cans beautifully clean and fresh," states Barbara Christensen, owner of White Glove Cleaning. The company is currently in the process of re-launching its website to make it easy for consumers to buy directly online. The site does not carry wholesale prices, but Christensen encourages retailers to contact her directly for pricing and information.
Launched in 1983, White Glove Cleaning began as a housecleaning business, and then moved into carpet and furniture cleaning. In 1992, the company began manufacturing its flagship product, the Wall Buddy, a lightweight plastic sleeve that rests against the corners of the walls and furniture to protect them from cleaning hoses and cords that rub against and mar the corners during the cleaning process. "There is nothing else like the Wall Buddy on the market," says Christensen. "Homeowners love it, and it's flying off the shelves." There is no minimum order, and wholesale pricing is $5.69 each for 1 to 24 pieces, $5.44 for 25 to 99 pieces and $4.44 each for 100+ pieces. The suggested retail price is $12.95. The Tire Buddy, is used when detailing a car to keep hoses and cords from catching under the tires. Both the Wall buddy and Tire Buddy are made from lightweight, non-marking durable plastic. They store easily in a garage, or closet so they are ready for use the next time you are cleaning the car or home.
Lift Buddy is another tool Christensen says is very popular with consumers. "It's really wonderful in the home, because women often like to move furniture around, and pushing a heavy sofa can be difficult. If you get skidders and a Lift Buddy, you can lift the sofa and put skidders under the legs and slide the sofa anywhere you want it to go." Lift Buddy wholesale pricing is $27.50 each for 1 to 35 pieces, $25.50 for 36 to 74, and $23.50 for 75+ pieces. Suggested retail is $52.95. The Lift Buddy is made of steel and is very durable, able to lift that heavy furniture.
White Glove Cleaning offers other products designed to make cleaning jobs easier and safer, Christensen adds. One such tool is the Hose Boss. A patented, fully engineered tool designed to take the dirt and friction away from the hands while winding garden hoses onto the reel, Hose Boss saves time & frustration by providing accurate hose delivery onto a reel. Made in the USA, the product works on garden hoses up to 5/8 inch in diameter. "Hose Boss is another useful tool that deserves to be in every home". Christensen points out.
Another product available from White Glove Cleaning is the Disposable Caution Sign that warns people of wet, slippery floors. Because the signs are inexpensive, retailing for $1.29 each, and are designed for the carpet cleaner, cleaners can leave them on the job to show customers they care about their safety. Signs are 21 inches long and fold into an 11 by 6.5 inch wide triangle. The Hydro Shelf, a product that holds eight one-gallon containers to provide more space for chemical storage, is used by carpet cleaners that have a Hydro Well in their vans. With 30 years of experience, White Glove Cleaning knows the industry like the back of its hand. The company is dedicated to the manufacture and design of high-quality cleaning tools and accessories that help consumers and professionals achieve the utmost in cleanliness and related safety.
For more information:
White Glove Cleaning, Inc
11558 S. Charter Pointe Rd.
South Jordan, UT 84095
Toll Free: 888-684-3808
Tel.: 801-446-7144
Website: www.whiteglv.com