by Jon VanZile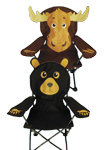 Heading into the summer sales season, Wilcor is focusing on the fun and helping retailers dramatically increase sales in the process. The company has recently unveiled a host of products that are excellent add-on sales items to its line of camping and outdoor gear. According to Shawn Corrigan, Vice President of Purchasing, by taking a few simple steps and adding some new, hot products to their line-ups, retailers can double or triple sales in camping and outdoor gear. "A lot of these new products are great add-ons," he says. "We are encouraging retailers to set up displays in their stores showing a lot of these in use. For example, you could set up a 'have more fun around the fire' display and make a lot of money showing off new products. It's all about focusing on the fun."
The range of new products is vast and reflects Wilcor's long-standing dedication to understanding the outdoor market. The company develops and personally tests its products, Corrigan says, always looking for the next must-have item for campers and outdoor enthusiasts. "Right now, we are really focusing in the lighting category on LED lights," he says. "We introduced a line of LED lights that use less power, are lighter with a better design, and feature premium Duracell batteries." The lights are designed to be sampled by consumers in the store, in an approach Corrigan calls "try me, buy me," because consumers are more likely to buy a light after they have sampled it.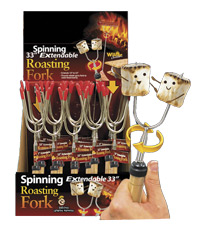 Outside of lights, Wilcor has also seen retailers experience tremendous success with its new knife displays. Each unit displays 36 knife styles in about 15 inches of countertop space in an attractive display. "It is easy to maintain and makes the knives look great," he says. "Because they look so good, retailers are able to add 20 to 30 percent to the retail price. We are seeing an average return of $2,000 to $3,000 for retailers who use this display during the summer retail season."
Another huge category this year is anything related to campfires. "Everybody loves a good campfire," Corrigan advises. "So we have a whole line of add-on products aimed at the campfire category." These include fire starter packs that retail for about $4 each and make it easy to start up to four campfires. Mystic fire powders, which make a fire burn in different colors, are also big sellers. Finally, cooking implements, including s'mores baskets that can be used for everything from s'mores to hamburgers and extendable forks are also a big seller.
Retail Support from Wilcor
Wilcor is a third-generation wholesaler of camping and outdoor gear. According to Corrigan, the company prides itself on intense customer support and working closely with retailers to maintain the right product mix. "When we sell a customer product, we track that sale for four years," he says. "We help our retailers control inventory and keep everything stocked. We are always looking to help retailers get the right product mix." For more information on wholesale pricing and products, see the company's website.