by Alexis Cruzzavala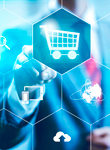 The line between physical stores and ecommerce retailers has begun to blur. Digitally native companies like beauty subscription service BirchBox are opening up shop in trendy neighborhoods across the country, while classic brick-and-mortar retailers like Audi are incorporating digital tools into their showrooms. Yet, with the rise of "phygital retail" and "clicks-and-mortar," offering a memorable customer experience is still a hurdle all companies face – from Fortune 500 to Mom and Pop Shops. In this new digitally enhanced world, how can retailers wow customers when they walk through the doors?
Provide hands-on experiences with your brand. Physical locations are ripe with opportunities to help your customers experience your brand image and story in ways that complement a digital presence. From the design of your store to your website, the moment you connect with a customer is an opportunity to connect your brand story with their personal story, cultivate buzz and excitement around your brand, and increase brand loyalty with existing customers. Warby Parker, for example, connects to customers both digitally and physically. While the company offers a home try-on option through their website, they also display their company story alongside their products and display books in their store to reinforce the connection between their glasses and a love for reading. To take it one step further, they once took over part of the New York Public Library's iconic Rose Main Reading Room in a "hush mob."
Personalize the customer experience. Part of providing hands-on experiences with your store is tailoring each customer experience to create memorable and unique moments. Personalization also helps customers understand the purpose and promise of your product relative to their lives. The use of profiles and 08Apple's iBeacon technology is one way of delivering customized service: from recommendations when customers approach areas of the store to notifications of sale and popular items. Another way to deliver customized service is to help orient customers to your products. The ASPCA, for example, uses a program called "Meet Your Match" which creates pet personas to help potential pet owners figure out which pet personality is best for them. Personalization is also a useful way of gathering data and feedback from your customers in a way that online tools cannot yet. Sephora recently introduced Color IQ, an in-store device they created with Pantone to pinpoint a customer's skin color in relation to foundation products. Armed with their appropriate shade, customers can more easily navigate in-store options and retailer recommendations online.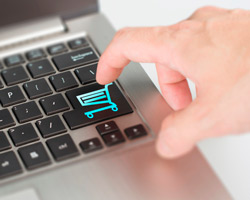 Showcase more of your product. While a digital presence may simplify the shopping experience for many customers, physical locations should capitalize on the opportunities unavailable online. In stores, customers can touch, smell, hear, and even taste your product. Audi showrooms, for example, use the virtual reality tool Oculus Rift to help customers imagine what their customized car could look like. Similarly, for the release of the new electric LiveWire motorcycle, Harley Davidson let customers "test drive" the bike in store by bolting down the bike, letting customers hit the gas and hear the unique LiveWire engine sound, and even feel their hair blowing in the wind with the help of a large fan. Though physical stores are limited by their capacity to hold inventory, they can use digital to work around this constraint. Both Burberry and Rebecca Minkoff showcase additional products through interactive digital displays of their online offerings and runway styles.
Provide complementary services alongside your product. Many times, customers need a hand in imagining how a product will fit into their life. By offering complementary services alongside your product, customers learn the ins and outs of the product and the services themselves may attract a new customer group. BirchBox, the cosmetic subscription service that started online, offers a suite of beauty services in the basement of their New York SoHo location. Services like nail art and make-up tutorials use the products featured in the subscription boxes to educate customers and share some tips and tricks. Italian food market Eataly also offers complementary services through a number of on-location restaurants and kitchens to showcase how the food they sell in their market can be used in meals.
Experiment with new products, brand stories, and customer segments. Small-scale experiments help retailers test out new ideas before investing too much time and money on an idea. The fresh, new idea will also generate excitement among your customers and likely garner the interest of new customers. To build momentum and awareness of its new store in New York's SoHo, Kate Spade Saturday used a digital storefront during construction so that passersby could browse the collection and even order clothes before the store's grand opening. To reach a new market of consumers and pay homage to their designer, Nordstrom built a pop-up store for the release of the Sarah Jessica Parker shoe line in her native New York. The pop-up allowed for a dramatic and unique reveal of a new product while helping Nordstrom set up their first store in NYC.
Whether you are moving from a digital presence to a brand new store or implementing digital tools into your physical location, creating a unique and memorable customer experience is paramount to growing brand equity and loyalty.