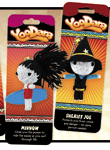 While some playthings only offer a few moments of fun and laughter, others last a lifetime and become classics or cherished collectibles. Generations of children remember Cabbage Patch Kids, Barbies, Polly Pockets, Beanie Babies, and now a new generation will know YooDara. YooDara, handmade string good luck charms, are more than collectible dolls. According to director of marketing, Ross Johns, YooDara is an experience. Customers can interact with their YooDara doll by logging on to YooDara.com using a unique website code packaged with each doll. "From there, users can play games, earn experience points in the world of YooDara, and even build their own YooDara avatar, which can then be used in social media," details Johns. The company behind the collection, Dimension 9, saw the unique string dolls as a business opportunity with growth, eventually leading to licensed products, games and more.
YooDara Collectibles for Young and Old
What is so appealing about YooDara? Besides the high quality craftsmanship used in making the string dolls, figures made from start to finish with a continuous ball of string, each character also has been designed to speak to a particular and important aspect of one's life. The legend behind the dolls, according to Johns, is that within the realm of the ninth dimension lives a vast empire of magical beings known as the YooDara. These harmonious people have watched over humankind since time began. Their concern over the human suffering they witnessed, and our lack of magical powers to combat it, forced them into action. They discovered how to move between their dimension and ours, and soon began casting their spells upon us. Although in our dimension we see them as an inanimate object, they still work their magic through people. The legend continues that YooDara live in tribes. Each of them is committed to a noble cause. The most legendary and influential are the Ancient Four. The first is the Power Tribe, and it wields the greatest authority, followed by the Wisdom, Protection, and Good Luck tribes.
Johns admits that there are similar string doll collections, but besides the strong appeal to the public, YooDara offers something to retailers as well. "Dimension 9 and YooDara dolls are different from other products on the market because of our packaging, marketing materials and ability to deliver," he says. Each character is individually packaged and comes with a disc and web code to access the online world of YooDara. Retailers have the option of ordering a 288 piece display, power panels of 90 pieces, and a counter display with 48 units. And no matter the size of the display, Dimension 9 supplies signage that not only attracts customers, but explains the legend of YooDara in a fast and simple way for buyers to understand. "We strive for unmatched customer service, ship fast, supply an easy setup display, and above all offer fair and competitive pricing," notes Johns. In fact, the company suggests a retail price of $6.99 per unit, but has found that most retailers are selling the collector's item for $9.99 apiece. "We are mindful that our retailers make a decent margin of at least 50 percent based on their wholesale cost," says Johns.
While Dimension 9 sells other unique items and impulse buys like solar powered key rings and personalized toothbrushes, YooDara dolls have truly proven to be one of a kind big sellers. Fans can access a Facebook fan page, a twitter account, and even a YouTube channel featuring a recently released rap song about the YooDara. "We are excited about the buzz. YooDara even made its way into the guest baskets of this year's 54th annual Grammy Awards show," says Johns. YooDara collectors and followers of Dimension 9 can expect four waves of new product releases in 2012, and should keep an eye out for new YooDara characters and tribes. "Some of our current characters will become retired, making them truly collectibles. Consumers shouldn't wait to buy," notes Johns.
For more information:
Dimension 9, LLC
PO Box 12500
Prescott, AZ 86305
Toll Free: 888-594-9936
Website: www.yoodara.com