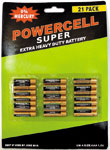 Sadiq Judah owned a one-hour photo store about 25 years ago, where he learned the film and battery industry during its height, and cut his teeth on business ownership. When he decided to start selling wholesale batteries and film in 1993, business grew exponentially, and within five years Judah was achieving higher sales volumes than ever. Soon, 21st Century Photo Supplies Inc. was making its mark on the wholesale map. In 2003, Judah expanded inventory to also include brand name health and beauty products such as Colgate and Gillette, as well as general merchandise. "I'm a very open-minded man, open to great ideas and new opportunities that come my way," says Judah, owner and president. "I'm willing to take risks."
When Judah is presented with a chance to bring value to customers, he jumps on it, applying this philosophy to liquidation purchases in particular. He feels strongly that all business should be approached as a potential win-win situation. Judah acquires much of his stock for 80 percent below the normal wholesale cost, which he uses as leverage to offer products to retailers for the lowest possible price. "If a customer is used to paying $.60 to $.70 for a particular product, I want to be able to sell it to them for $.19, so that they jump on it and tell their friends that they got a great deal," he points out. Always on the lookout for new ways to keep customers coming back, he offers more than 20 items on special at all times.
A specialty of 21st Century Photo Supplies is its ability to work with customers. Judah welcomes phone calls from buyers looking to negotiate deals, discuss volume discount options and make special delivery arrangements. "We have customers who place $100 orders, and customer's who spend $100,000 on an order," he explains. "We cater to many types of customers, from mom and pop shops to electronics specialists." For volume buyers with more than one store to fill, he works to schedule deliveries to separate locations, all within one purchasing transaction. Free freight programs are also available, to avoid any anxiety or uncertainty regarding shipping costs.
Judah points out that one of the challenges he faced in getting 21st Century Photo Supplies started was assembling just the right team. Dedicated to customer service, he seeks out employees with great attitudes, who can be trusted with his valued customers. "Treating people honestly and ethically is something I insist on," he stresses. "It's very near and dear to my heart. Gathering good people, while it isn't exactly a challenge in the sense of being a problem, does mean putting forth a lot of hard work, and we are willing to do it." Judah and his family spend a great deal of time learning the products inside and out, in order to make sure that quality is controlled prior to shipping merchandise. This helps the company in its efforts to grow, as does keeping up with the latest advancements in technology.
Judah's goals for this year are to install a freshened ordering system on the company website, and to revamp marketing efforts. "We want to make it all as user friendly as possible," he explains. "I want to make things easy for my clients, so as to best save them time and money."
For more information:
21st Century Photo Supplies Inc.
3003 Leonis Blvd.
Vernon, CA
Tel.: 310-641-0588 or 323-585-6700
Website: www.21cgm.com