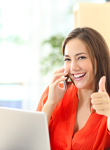 By Gloria Kopp
As a retailer, you'll want to maximize your opportunities in both online and offline retail worlds, keeping shoppers happy and spending their money in your store. Here's how you can use retail email marketing to do just that.
Building Your Mailing Lists
You can't have an email marketing campaign if you don't have anybody to send your emails too. One of the first steps you'll need to take it to build up this list. If your customers are shopping online, you'll already have their email addresses, either because they have made a purchase, or they've opted for your mailing list, such as signing up for your newsletter.
But what about your in-store store shoppers? One of the best ways to grow your mailing lists with these sorts of customers is by offering to send them their receipt via email. Let's face it; paper receipts are annoying for you and customers and a bit of a waste of resources. By having this option, you may even be able to rid yourself of paper receipts completely.
Be sure to proofread and edit your receipt emails for professionalism using tools like Academadvisor. There are also many other ways to build your email lists listed on ReachMail.
Offer Incentives
Sometimes, you're going to want your online customers to come into the store for better prices, and so they can experience what you have to offer. One of the most effective ways to pull customers into the store is by emailing them incentives. This could be anything you want, from seasonal discount vouchers they can use to birthday coupons that you send to them. Services like Boom Essays are ideal for creating engaging incentive emails. If you've already created them, you can use Paper Fellows to edit them to perfection.
Get Pinpoint Precise
In regard to your mailing lists themselves, it's essential that you're as accurate as possible. This means dividing your mailing lists in a process known as segmentation. This means organizing your lists into gender, age, location, jobs, average spending habits, product interest type, or whatever you think is best for your business.
This means you can be far more accurate with your sales tactics, an essential if you have multiple physical stores in different areas. You can use tools like Mail Chimp and Get Response to create and manage these mailing lists.
Using Stock-Alert Emails
Whether your customer is shopping online or in-store, they're not going to make a purchase if the item they want is out of stock. However, email marketing allows us to create alert messages where you can notify these customers when a product is back in stock, so they can make the purchase.
For online customers, all you need to do is to set up a link that will allow them to enter their email address to become notified. In store, you only need one of your sales assistants to ask for the email address.
When creating your stock-alert emails, use editing tools like State of Writing to check your grammar usage or tools like Essay Roo to create your email content on your behalf.
Using Surveys for Information
The more information you can get from your customers, the more accurate and the more precise you can make your email marketing campaign. The more accurate and precise you can make it, the more effectively you'll be able to market your products and the more sales you'll make.
You can use tools like Easy Word Count to make sure that your surveys are precise or services like UK Writings to proofread your surveys for accuracy. The best way to get this essential information about your customer is by creating a survey. With this, you can create questions regarding the things that you want to know about, a survey that can be applied both on and offline.
You can have the survey completed online, and you can offer in-store incentives or discount codes in return for your customers completing the service. One of the more popular ways is to run a prize draw where every survey completed in an entry.
Any great feedback you get from your surveys, be sure to use tools like Cite It In to add these testimonials and reviews to your website.
As you can see, retail marketing can be a very effective tool in bringing both your physical and online store to next heights of success. By implementing these strategies, you can help to unify both your outlets, allowing you to maximize opportunities while giving your customers the best experience possible.