By Carolyn Hoberman, President, Hoberman Designs, Inc.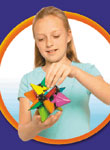 An American Dream: that's the story of Hoberman Designs. It's about someone with a good idea, starting with nothing and over time building a business using ingenuity and LOTS of hard work. The Hoberman Sphere, which came out in 1995, was a phenomenon and is now known to be a great classic toy. What makes it great is the simplicity and surprising movement, stirring the imagination and evoking creative play.
These toys aren't just for kids. In 1998, President Clinton appeared on television and newspapers around the world, playing with a Hoberman Mini Sphere®. The spheres and other toys have appeared in movies like, "Runaway Bride," and on television in, "The Office," and, "Big Bang Theory." (We call these, "sphere sightings.") Who knew? People have developed numerous uses for the toys. They are used by mental health professionals and yoga teachers to help reduce stress; they have been used to diagnose Autism; teachers use the toys in classrooms to teach math and physics; choir directors use them to teach breathing; marching bands use them as pom-poms, and the stories go on and on.
The Hoberman Designs dream, however, was short lived. The American dream turned into a Pirate Nightmare. From the first year we began to have substantial sales, the knock-offs appeared. First on the streets of Hong Kong, then on the streets of Europe, and then in the U.S. markets. These substandard versions of our designs created confusion for the consumer and trouble in the marketplace. Many young companies experience the same shock and heartbreak after years of work, as they watch their brand and profits erode by pirated copies. Hoberman Designs has fought back over the years as best we can, and it's an ongoing struggle. We have worked with attorneys, Customs officials and with organizations like the IACC (International AntiCounterfeiting Coalition), and continue to do so.
In 2004, we changed our business model from manufacturing to licensing. Currently our Master Licensee is John Hansen Company of Millbrae CA, a fine family-owned manufacturing and distribution company. We work closely to support product development, and of course, enforcement.
With the global marketplace becoming smaller and smaller due to the Internet, keeping knock offs at bay has become even more challenging. Through BtoB websites, Chinese factories and trading companies offer substandard and infringing products at a fraction of the cost. They don't inform the retailers and importers that these are illegal toys, but the persons trading in these pirated toys are still liable under the law. To help out the community of importers and retailers, we are making an effort to get the information out about our products and the problems of piracy, through publications such as Independent Retailer and at trade shows and other venues.
Hoberman Designs has received numerous prestigious awards for our toys over the years. Hoberman and John Hansen Company have the goal to keep the quality of our toys first rate, and to comply with all safety laws and standards. We're proud of the accomplishments of our family business, and of the fine and original toys we created that continue to give pleasure and benefit to children of all ages. I am committed to fight against piracy of our toys, and I hope you'll help. Please email me, Carolyn Hoberman, at: designs@hoberman.com. If you'd like to read about our story, you can find it in the, "Childs Play-What Makes a Toy Fun?" chapter of the book, The Annals of Invention, by Jonathan Seabrook.
For more information:
Hoberman Designs
New York, NY 10013
Tel.: 646-246-8984
Website: www.hoberman.com/fold