By Meaghan Brophy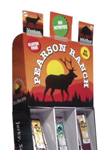 "The ranch was started by my Great Uncle Ken in 1959," says Pearson Ranch President Marvin Cromwell. The family-owned ranch has been growing ever since. In the early 2000's, Pearson expanded into the jerky and meat snack business. "We were lucky enough to land Bass Pro Shops and Cabela's as retailers of our products," says Cromwell. "In 2012 my son Matt wanted to start selling our products to truck stops and travel centers, and we really took off from there."
Pearson Ranch offers an assortment of snack meats including elk, bison, venison, and wild boar in jerky, snack stick, and summer sausage form. "Elk jerky continues to be our most popular product," continues Cromwell. "Buffalo is a close second." This year, Pearson plans to expand on their successful wild boar products. They have also added a "Fender Blend" summer sausage containing a mix of wild boar, buffalo, elk, venison, alligator, and rabbit meat. All Pearson Ranch meats are USDA inspected, gluten free, MSG free, grass fed, and farm raised in the USA.

Cromwell and his family ensure a 40% profit margin for all of their retailers. "That is a true 40% as we either deliver and merchandise the product ourselves, or we pay the shipping if the retailer is not on one of our routes," explains Cromwell. Pearson has their own delivery trucks with routes along the Rocky Mountains, OK, TX, and VA and a direct ship program for the stores their trucks don't reach. "Once a month our customer care team calls each store for a refill order which we ship out within three business days via UPS prepaid," says Cromwell. There is no minimum for orders, and a $150 minimum for prepaid shipping.
Caddies, shipper POP displays, and spinner racks are available for easier merchandising. Cromwell also suggests placing the display near the counter to facilitate impulse purchases. With each order, Pearson offers free samples so that retailers, employees, and customers can try the products first-hand. "Having tasting demos going on really helps drive sales," says Cromwell. Pearson meats are a unique item, offering something for consumers different from regular beef jerky. "Truckers, travelers, outdoor folk, and the health conscious all love our product," says Cromwell. "Retailers have told us that our items are a great loyalty program for their store." To request product samples and pricing information visit PearsonRanchJerky.com.