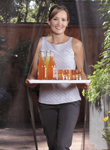 Spring and summer months mean barbecues, sports, gardening, and all kinds of outdoor activities. These activities also mean a lot of traffic going in and out of the house and traditional front or back doors being left open or substituted with screen doors. However, traditional screen doors can be difficult to open and close if you have your hands full, they can be expensive to install, and many apartment managers and condo associations do not allow them. Worst of all, if you have a non-standard door size, you probably won't find an affordable screen door that fits. Bug Off Screen provides an easy solution.
Bug Off Screen is a frameless screen curtain alternative that easily installs in the doorframe in as little as five minutes and without the need for tools. Simply place the Bug Off Screen on the included spring tension rod, and push it up into the doorjamb. The instant screen is made out of durable mesh with strategically placed magnets that allow you to keep the bugs out of your home, let the fresh air in and enjoy hands-free entry and exit for you, your family and your pets.
Bug Off Screen has been recognized as the instant screen leader for more than 20 years because of its excellent quality, great customer service, and original patented design. It's been used in homes, restaurants, and hotels around the world. Not only do adults love Bug Off Screen, kids and pets enjoy it too.
Bug Off Screen is a best seller during the warm summer months. This practical item makes a great addition to the inventory of any general merchandise, convenience, online, or community retailer. Brooke Branning, VP of sales for Bug Off Screen says, "Bug Off Screen started the 'instant screen' industry more than 20 years ago and continues to be the industry leader in quality and customer service. Bug Off is superior to the cheaper copy-cat screens on the market because it is made from top quality materials that will last for years." Bug Off Screen is available in fourteen sizes and custom sizes for single doors, sliding glass doors, and French doors. Display options, dropshipping, and free shipping are available with qualifying wholesale orders. To date, over two million Bug Off Screens have been sold worldwide.
For more information and ordering, visit www.BugOffScreen.com.