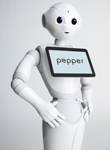 Pepper, a humanoid robot from SoftBank robotics company, is designed to be a shopping concierge. Besides detecting your physical presence, Pepper can also read your emotions, offer advice, and help shoppers make informed purchasing decisions. The four-foot-tall robot with big blinking eyes is equipped with sensors, radar, lidar, microphones, 2D and 3D cameras, facial recognition software, and the same language processing software as Apple's Siri.
Steve Carlin, vice president and general manager of SoftBank tells Independent Retailer, "Pepper was developed specifically to interact with humans. Pepper can move and turn to address the person it is interacting with. It has big, expressive eyes that give the appearance of blinking when it's thinking or talking to you. Pepper has arms, hands, and fingers that gesticulate because humans communicate with our arms and hands. By mimicking how we communicate, it creates a sort of empathy which makes the engagement more personal. Pepper's human-like form factor and features are what really separate it from other pieces of technology that can interact with you, for example your phone."
So, if Pepper sort of looks human and mimics human interaction, what's the benefit of having Pepper in your retail store in addition to actual humans? Carlin explains, "The most important features of Pepper for our current partners is its ability to attract and engage with customers who otherwise might not have stopped and shopped in their store. In recent U.S. pilot programs, our partners have confirmed increased foot traffic, customer engagement, and ultimately, sales while Pepper was implemented in their locations. Retailers interested in exploring the concept of integrating robotics technology into their brick and mortar stores will be able to mix real-time customer insight, CRM data, social selling, in-store promotion, and most importantly brand engagement into one strategy." In essence, the novelty of Pepper helps draw people in, while its advanced programming helps engage customers and deliver on-brand messaging while collecting real-time data. However, Carlin stresses that "Pepper is not here to take jobs." Pepper helps draw in traffic, get customers engaged, and answer preliminary questions before handing the shopper off to a human associate. "Pepper is here to support their human colleagues," says Carlin. "By taking on low-level tasks, or answering repetitive questions i.e. 'where's the restroom,' Pepper allows that colleague to work at a higher level. In addition to communicating a specific brand message, Pepper could eventually be connected to a company's cloud-based system, like Microsoft Azure. This connection would allow Pepper to answer questions like product availability, size, and color, which alleviates the sales associate from having to answer those questions and allows them to have a deeper engagement with the customer."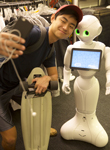 Carlin continues, "Our vision is to create robotic technology that communicates, understands and empathizes with mankind at a human level. Overall, we aspire for humanoid robotics technology to inspire humanity to embrace a better life through technology. The long-term vision of our CEO, Masayoshi Son, is to have a robot in every home. While this vision is beginning to take shape in Japan, our focus for the U.S. market is to bring Pepper to consumers first through experiences in retail, hospitality, healthcare, travel and other consumer-facing industries. We are doing this with a targeted focus on brand engagement and sales assistant experiences. The ultimate vision for Pepper is to be at the forefront of bridging the gap between people and technology."
While in the United States, having a humanoid robot as part of our everyday life still seems like something out of a science fiction movie, overseas the idea is more mainstream. There are over 10,000 Peppers at work worldwide including Pizza Huts in Singapore, cruise ships, and homes in Japan. Pepper made its retail debut in the United States this past November at Westfield Corp. shopping centers in the Bay Area. Pepper also appeared at the Pyramid Ale Taproom in the Oakland International Airport, bt8a in Palo Alto, and The Ave, a Venice Beach-based retailer. In each pilot program, Pepper was a great success. According to SoftBank, b8ta experienced a 70 percent increase in foot traffic, a thirteen percent increase in revenue, and a huge increase in sales on their featured product.
Carlin explains that while they are expanding into the United States, SoftBank is developing solutions geared specifically towards small to medium independent retailers. "As we come to market in the U.S. we are focused on developing a product that will give small and medium businesses the same opportunity as big box retailers to buy and leverage Pepper for their business and marketing needs. Small and medium retailers interested in exploring the concept of integrating robotics into their brick and mortar stores will be able to mix real-time customer insight, CRM data, social selling, in-store promotion, and most importantly brand engagement into one strategy. Each tool has been proven to help increase a retailer's bottom line, but when combined with new technology platforms like robotics, new marketing and brand engagement opportunities open and a new customer experience is born for their brand."
Since President Trump's election, SoftBank CEO Masayoshi Son has met with Trump and pledged to create 50,000 new jobs and invest $50 billion in the United States. With such a large investment, expect not only for Pepper to make its way into your store, but also your home.