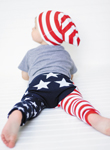 Kids grow up fast. For retailers, growing kids equates to growing sales. The U.S. children's apparel market is expected to reach $70.1 billion by the end of 2018. The market is growing so quickly not just because of parents trying to keep their children in clothing that fits, but also because children's fashion is becoming increasingly mainstream. There are endless Instagram and Pinterest accounts dedicated to looks, trends, and fast fashion for kids. There are also many cultural factors playing into the growing children's wear industry. The U.S. economy is continuing to strengthen year over year, women are having children later in life (and further into their careers), and more and more members of the Baby Boomer generation with disposable income are becoming grandparents. There's no question children's apparel is a lucrative market for retailers.
Circle of Life
On average, children grow out of their clothes every six months. However, nine out of ten moms will spend more on their children's wardrobes than their own. So, what does this mean for retailers? Parents are investing a lot of money into their kid's clothes. Just not on individual pieces. Because children's apparel items are so frequently replaced and outgrown, most parents aren't willing to invest a lot of money on a single item like they might for their own wardrobe. So, for many shoppers, price is the ultimate factor in purchasing decisions. That means retailers need to be conscious of price without sacrificing on style. Solve this need by offering complete outfits and looks comprised of affordable separates.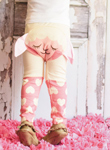 Kid-Friendly
Lorain Herder, the founder of Doodle Pants, tells Independent Retailer that over the past few years, "a lot of stores that mainly sold gift products or shied away from apparel are now bringing it in because they're seeing how well children's clothing sells." Herder says that in addition to traditional apparel, children, and baby retailers being very successful, "many stores are opening baby sections or incorporating children's items. Growing children's wear sales are opening up a new market for retailers."
Mom-Approved
"In general, having a baby section is a great idea," continues Herder. "Sometimes parents or adults go into a store not necessarily for a gift or to buy children's clothes, but kids clothing is cute. If someone sees it, even if they didn't come in for kids clothing, they see something and have to buy it. Having this available as an extra revenue stream for retailers is so important."
Tiny Trends
Same as adult apparel; children's clothing is moving away from the traditional blue for boys and pink or girls. Instead, kids apparel focuses on self-expression and gender neutrality. Due to popular demand, Doodle Pants is releasing a pink dinosaur hoodie later this year. Herder says, "Many of our products are gender neutral, but so many moms have asked for a pink dino hoodie!"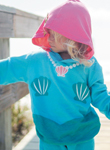 In addition to pink dinosaurs, Herder reports that unicorns and mermaids are "huge." She continues, "These trends have been around for about a year. But they don't seem to let up." Other than mythical creatures, minimalist designs and black and white prints are currently very popular. "Clean minimalistic prints are a really big trend. It started about a year and a half ago – we're currently knee-deep in it. If you go on Facebook or Instagram and look at children's brands, this look has really just taken over."
For independent retailers, it's also important to carry a full range of sizes from infant through ages 10 -12. Since children do grow so fast, if you limit yourself to a specific size or age range you are also limiting your customers' lifespan. To keep customers coming back again and again, make sure you have a selection of apparel that will fit their growing child throughout all points of their childhood.