By IvyLee Rosario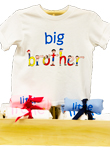 As a young girl, Cindy Cohn was given the gift of a shirt, ornamented with her name spelled out in different characters. Cohn treasured the shirt, and kept it as a keepsake for many years. After working for ten years in the wholesale apparel industry, as well as owning a retail store for 20 years, Cohn decided to merge the two businesses together and create a brand inspired by her favorite childhood shirt. "Posey's was established by extrapolating this original idea in another direction, so instead of names we chose specific themes and words that pertain to kids," she explains. The whimsical art used in these fun and fresh products are designed by spelling out a word, like CHEER, using letters formed by cartoon children acting out, or dressed in, costumes related to the word they spell. "The initial line started from requests from retail customers who were looking for merchandise related to these themes."
Posey's offers tees and onesies for boys and girls, canvas drawstring bags, and pillowcases. The biggest seller for the company has been their sibling collection featuring "big brother" and "big sister" apparel. Available in a wide variety of concepts, Cohn is upbeat about the future of these unique product lines. "We honestly think we can do anything with this concept," shares Cohn. "We constantly have new people contacting us asking if it would be possible to create a line for them, and so far we have been able to do it every time."
An example of Posey's custom work can be found in their partnership with NASA. The company was approached by the legendary space agency to create an apparel collection incorporating their famous logo. In response, Cohn produced a line featuring astronauts, rocket scientists and space engineers, all spelled out by frolicking cartoon characters. Posey's has also worked with Girl Scouts of America and many different zoos and aquariums.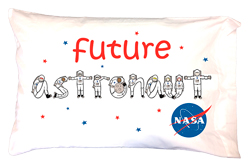 In addition to expanding their custom collections, Posey's will also be creating a "future" line, which will incorporate different popular career choices for kids including police officers, firefighters, nurses and doctors. Cohn continues, "We are producing a collection of baseball style caps with patches that will include our regular design, and locker and car magnets. We are also focusing on doing more regional designs; for example we started with a New York collection and are looking to offer any region that would be of interest to our customers."
The company has a minimum order amount of $150 and offers very low minimums for their custom division with as little as 24 pieces per order. Retail prices for tees and onesies range from $15-18, pillowcases $15-20, and bags $20-22.50. Retailers can mix and match designs and merchandise as long as the minimum is reached. If retailers are in need of product displays, Cohn notes that the company is more than ready. "We are also working on coming out with a larger floor display," she says, "to have a bigger footprint in stores to showcase a larger collection of the tees, bags and pillowcases."
Posey's prides themselves on starting small and growing into their success. "This is a woman-owned company that I started by myself," recalls Cohn, "and now it has grown to have four employees. It all started from my favorite childhood shirt and I harnessed that inspiration and took it to the next level."
Retailers interested in reviewing the newest Posey's Catalog can find their full line at http://ppipnj.wix.com/wholesale.