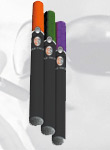 Industry experts say U.S. sales of electronic cigarettes could reach $1 billion this year. To meet this huge demand, Clear Smoke LLC is expanding its product line. "Tax hikes, smoking bans and health concerns are making alternatives to tobacco cigarettes extremely popular," says Clear Smoke founder and CEO Tommy Hoang. "E-cigarettes are odorless, don't require lighters and are free of tar. They can go anywhere, including restaurants, parks and offices, and consumers love that."
Since 2011, Clear Smoke has wholesaled an assortment of e-cigarettes and accessories. "Our manual e-cigarettes sell very well because they allow users to control how much of the liquid vapor hits their mouths and fine tune their smoking experience," Hoang points out. "The technology enables people to take longer, more frequent drags, without draining extra battery life." Another advantage is that a manual e-cigarette will not activate in circumstances like a concert or club, where loud music causes vibration and pressure changes.
Manual e-cigarettes are popular with many smokers, as are several other products in this category, and Clear Smoke will be introducing a selection of automatic e-cigarettes, vaporizers and electronic hookahs in the upcoming months. "While many people like the manual e-cig because they can regulate the vapor flow, others like the automatic e-cigarette," he asserts. As its name indicates, this e-cigarette automatically adjusts the flow of vapor when the user puffs on the device.
Tobacco vaporizers are also emerging as a great alternative to tobacco cigarettes. Instead of burning tobacco that generates toxins and carcinogens, a vaporizer heats the tobacco to a temperature that releases most of the desirable compounds but not the unhealthy chemicals. "Vaporizers are popular with consumers because they allow them to inhale only the vapor, without the smoke," Hoang shares.
Another product in great demand is the electronic hookah. It is used for vaporizing and smoking flavored tobacco called shisha. Unlike traditional hookah smoking, electronic hookahs do not contain tar or smoke, and emit only water vapor.
Clear Smoke also carries a line of products that alleviates issues connected to smoking, such as detoxification body cleansers and mouthwash. "These are very popular among electronic cigarette consumers," Hoang notes. "One big seller is our 420 Odor Eliminator, which helps to remove the smoke smell from any place or object after you smoke. It actually eliminates the odor, rather than cover it up."
E-cigarettes, vaporizers and electronic hookahs are popular sellers at all kinds of retail outlets, including gas stations, convenience stores and smoke shops. "The addition of these products to our line will help our customers meet consumers' varying tastes," Hoang states. The company has a three case minimum order, and wholesale pricing is available upon request.
Where to buy:
Clear Smoke LLC
P.O. Box 3946Cn
Gulfport, MS 39505
Tel.: 228-324-3173
Visit:
Clear Smoke