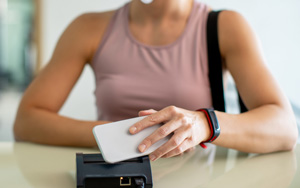 by David Wilkinson
For independent retailers, the holiday season is always highlighted — finishing the year with as much profit as possible is significant to your business. This year, it is even more important, and that's not all. Before you start thinking about decorations and window displays, you will have to take extra steps to make sure your shoppers feel safe in store, particularly when it's time to check out and pay.
With the right tools, you can compete with the big box brands when it comes to offering contactless ways for your customers to shop and pay. From BOPIS (buy online and pick up in store) and curbside pick-up to ecommerce and mobile in-aisle shopping via handheld scanners or mobile devices, there are a lot of solutions smaller retailers can implement to get a leg up on the competition — especially as they approach the industry's busiest season.
Making Spirits Bright: Going From Low-Touch to Contactless
As the pandemic continues to affect millions of people, consumers want to feel safe as they begin to leave their homes and shop in physical stores, and so does your staff. Technology that enables staff to keep a distance while allowing consumers to make their purchases via mobile shopping, self-checkout, online, BOPIS and curbside, along with tap-n-go payments, gives them the choice and comfort they want.
But by taking low-touch a step further and aiming for a complete contactless experience, you will give your consumers the confidence to shop and keep returning while helping your brand stand out from the competition. Here are some of the technologies you can use for a completely contactless experience:
Existing self-checkout software can be adapted to eliminate the need to touch screens
Mobile wallets and mobile payments like Google Pay, Samsung Pay and Apple Pay
Bank's mobile payment apps
NFC-enabled tap cards
POS terminals enabled by NFC
New technologies can seem daunting to independent retailers who have not been using them, but giving your customers a touchless holiday shopping experience actually is not hard to implement. With a POS system that accepts any type of mobile payment, you will be ready, and you can rely on technology partners to evaluate your current infrastructures to give you suggestions to make improvements.
Get Your Team Ready
Make sure you take the vital step of training your staff before the holiday rush. They should know how to use any new technology so well that they can easily show your customers how to use it.
Also, when your employees aren't bogged down taking payments, they can take the time to interact with your customers. That not only supports a good payment experience, it gives your customers more personalized care, which can boost loyalty.
Visibility is Key: Market Your New Safety Technology
Once you have got the technology in place, promote it everywhere to divert more of the holiday foot traffic to your stores. Use email campaigns, social media, your mobile app and website to promote your contactless options. You can also consider a holiday promotion or special event to boost awareness and traffic.
Communicating how retailers are upgrading their technology so that the shopping experience is 100 percent touch-free gives consumers the confidence to shop in physical stores during a very busy holiday season (and a pandemic). It also lets customers know that they have choices so they can explore different methods of shopping in store.
Get Ready and Embrace the Season
Your customers are definitely going to be shopping differently this year — online shopping numbers will far surpass previous years, and your in-store customers are going to start shopping sooner. They will also do their research on their mobile devices and online before they come to your store so they can arrive with a plan, which means less browsing as they prefer to get in and get out more quickly.
By anticipating your customers' contactless preferences and increasing the payment choices you give them, the better your chances are of recouping some of your lost 2020 revenue. It is essential to work with a technology partner to make sure you can support your customers' mobile wallets while delivering the highest availability for your ecommerce platform, your self-checkouts and your mobile shopping capabilities.
The most important part of your plan is to have a plan. The pandemic has made 2020 challenging in many ways, but there is still time to make the most of the holiday season — and revenue — by taking action to build a roadmap for your store's infrastructure…before the sleigh bells ring.
David Wilkinson is the President and General Manager for Retail at NCR Corp., where he is responsible for creating and executing NCR's overall vision and strategy for the Retail industry. He is focused on helping Retailers thrive and deliver on their brand promise in a digital-first world by leveraging NCR's unique software, hardware and services capabilities.