by Meaghan Brophy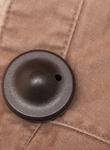 As retailers, it's easy to focus on the revenue driving aspects of your store. Buying the right products, creating attractive merchandising, and investing in advertising are all crucial parts of growing a business. However, it's also important to take the right steps in protecting your revenue. In 2014, shoplifting alone cost retailers almost $17 billion in losses, according to a survey conducted by the National Retail Federation. As an independent storeowner, it is difficult to not only find the right security solution for your space, but also have the cash flow on hand to make that investment. Mary Fouts, Technical Director of SensorTags Inc., a security solution company for small and medium-sized businesses, provides insight on cost-effective ways to protect your business.
Choosing Equipment
"Our most popular systems are the two-pillar transmitter-receiver styles for three foot doors. The mono-towers are popular for double doors or large open spaces like a mall," says Fouts. SensorTags also offers "indivisible" security solutions. "SensorTags is offering new products this year such as a self-installable mat system that works with alarming tags. We also have a new wall or door mounted system made of acrylic glass. Both of these systems are good for smaller stores, and spaces where you do not want the security to show," says Fouts.
Along with your single, double, or invisible security towers, you will also need to invest in security tags for your merchandise to serve as the alarm triggers. There are many different kinds of security tags, such as ink tags, barcode labels, eyeglass tags, checkpoint alarming butterflies, pencil security tags, and cigarette tags. The type of tags that are best for your store will vary based on your merchandise and the security tower selected. Also make sure there are ample deactivators available for your employees at the cash registers, so as to not slow down the checkout process.
Determining a budget ahead of time can help streamline the process of selecting a security system. SensorTags offers a variety of new, refurbished, and decoy options. For some smaller retailers, a fake camera or security tower could be enough to deter shoplifters. Decoy security systems usually only cost a few hundred dollars, compared to a few thousand for new or functioning refurbished systems. Many retailers who opt for the decoy systems make them more realistic by adding some security tags to merchandise, or adding lighting to the base of the tower so that is appears to be powered up.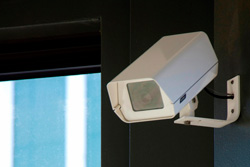 If you are not sure what system would best suit the needs of your store, SensorTags offers a free quote service. "It can be confusing when trying to choose a security system for the first time," says Fouts. On their website, simply fill out a questionnaire about your store and SensorTags will call or email with a personalized recommendation for your store.
Continued Support
Set-up, support, and maintenance fees are additional factors to consider when purchasing a security system. "Typical installations can take a whole afternoon, after waiting for up to two weeks for a security specialist to come out to your location," says Fouts. "SensorTags manufactures base plates for most of our systems. This allows the store owner to install the security system themselves in less than an hour without having to bolt them into the floor," says Fouts. As a retailer, you may not feel comfortable installing the system yourself, in which case it may be worth the cost and wait to have a professional do it. However, if you are confident in your abilities to set up the system with a base plate, you could save a few hundred dollars on possible installation fees.
On-going support for your system is important to consider as well. Make sure your provider includes some type of warranty or free technical support for purchases. "What makes SensorTags special is that we provide five years of over-the-phone technical support with every system purchased," explains Fouts. "Instead of waiting for a technician to come out, we guide you over the phone. This allows for a quicker response and to get your system up and running as fast as possible. We have over 50 years of combined experience and carry many parts that are no longer in production. A lot of times SensorTags can get your system up and running even if you did not purchase it from us."
Plan Ahead
Before investing several thousand dollars into a security system, consider where you envision your business in the future. If you think you may eventually need a larger space, or if there is another real estate property you have your eyes on, you may not want to bolt the costly security systems into your current store space. "Many leases require you to leave any equipment that is bolted down," explains Fouts. Consider mounting your security system on base plates, instead of directly into the ground. This will save you a lot of money and frustration if your store ever moves locations.
To view their different security systems and receive a personalized quote, visit www.sensortags.com.