by Meaghan Brophy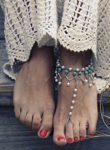 "The idea behind SunSandals originated when the mother-in-law of a friend started making beaded barefoot sandals by hand, based on something similar she had worn in the '70s," explains SunSandal Sales and Office Manager Shelley Miracle. "The inspiration for forming the company was a collaboration of the original SunSandals team and the surfing community." SunSandals are unique foot jewelry available in up to 40 different colors and designs. "There are a wide variety of creative designs to fit everyone's tastes," says Shelley. With a logo of "Bare Your Sole," SunSandals aims to offer styles that speak to every consumer. The sandals are constructed out of quality chains and cording with shell, bead, stone, and gem decorations. Barefoot sandals can be worn comfortably with or without sandals, heels, and other shoes.
In addition to their barefoot sandals, SunSandals also offers a collection of bracelets and necklaces that compliment the style of their sandals. "We carry 25 different bracelets including some that match the SunSandals as well as some very popular leather single, double and triple wrap bracelets," explains Shelley. "People love to wear several of the bracelets together; it's a great trendy look."
SunSandals' most popular look this year is the Mermaid Gypsy barefoot sandal. Between mermaid hair, clothes, and even tails, all things mermaid have been on-trend since last fall. The Mermaid Gypsy SunSandal is no exception. It has been a top seller across the board for SunSandals with both regular beachgoers and trendsetters. It's even popular with beach weddings.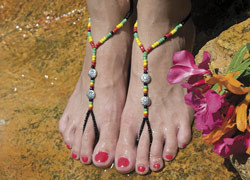 This year, SunSandals has added new items to their bracelet and barefoot sandal collections to expand on best-selling trends. "While most SunSandals are sold in pairs, the single foot styles, like the Mermaid Gypsy, have also become very popular," says Shelley. Their new SunSandal assortment features one-size fits all styles, so retailers don't have to worry about stocking various sizes. The new products have an elegant feel, many of them featuring more intricate designs and gem-colored beads. SunSandals has also grown their selection of leather wrap bracelets. Turquoise is always a popular color for summer, and many of their bracelets feature turquoise beads or details.
Barefoot sandals are a very unique item, so displays are important when determining the best merchandising solution for your store. "SunSandals offers three different displays with minimum order ranges," Shelley continues. "I highly recommend retailers go with a display. For a mid to high volume store, I would suggest getting a minimum of a medium display, which is complimentary with a purchase of six-dozen SunSandals. The small display works with an order of three-dozen. The large display is recommended for high volume stores that can accommodate a floor display." Small, medium, and large displays are crafted out of teak-like wood and include signage. SunSandals also offers a foot model that is included with the medium and large displays, or can be purchased separately. The foot display is ideal for a window, explains Shelley. SunSandals are a new trend, and having a window display can help drive traffic into your store.
The minimum order for a display is three-dozen SunSandals, or a combination of SunSandals, bracelets, and necklaces. "We will customize orders to meet the customer's needs," says Shelley. "We feel the minimum investment and high profit margin on the SunSandals makes it an easy choice." SunSandals wholesale for $7 each and the suggested retail ranges from $15.99 – $19.99. To view their collection, visit www.sunsandals.net.