by Lisa Evans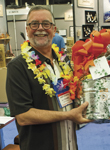 Whether you're shopping for the latest in vacation and resort wear, souvenirs, or any type of gift merchandise, retailers in-the-know have begun planning their fall trip to the International Gift Exposition in the Smokies® and the Souvenir Super Show®, otherwise known as IGES/SSS.
The shows are cozily situated in the one-of-a-kind relaxed setting of the foothills of Tennessee's Great Smoky Mountains National Park and are a huge hit with retailers from across the USA. Celebrating their 17th anniversary in 2016, the show will once more take place in two locations, spanning the Sevierville Convention Center from Tuesday, November 1st through Friday, November 4th, as well as the Pigeon Forge LeConte Center from Wednesday, November 2, through Saturday, November 5.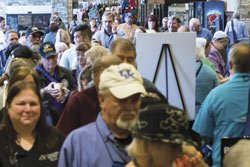 Buyer registration is now open on the show web site, www.iges.us, and one registration allows retailers access to both show locations for the full week. The International Gift Exposition in the Smokies® show attracts buyers from all across the country and beyond, representing everything from mom and pop stores and the best of Main Street to world-renowned resorts, amusement parks, attractions and more. Show partner Susan Mills notes that the 2015 event experienced an increase in buyer attendance and was once again home to many industry-specific buying groups attending networking dinners, hosted and sponsored exclusively by IGES exhibitors. 2016 plans are moving ahead with these same prestigious retailer associations, with many groups planning their annual meetings around the IGES shows. Buying groups include the NCA (National Caves Association) and ZAG (the Zoo and Aquarium Buyers Group) plus buyers from museums, water parks, campgrounds, amusement parks and attractions.
"IGES exhibitors include some of the finest custom craftspeople in the gift industry and their designs are among the most sought-after," says Mills, explaining that many of the show's exhibitors return year after year. Ian and Andy Storrs of A.T. Storrs would agree, having recently contacted Mills to say, "we chose IGES 2015 as the venue to celebrate our 40th Anniversary in business because it is consistently our largest and most successful show. IGES 2015 was, in a word… OUTSTANDING!"
With well over 1200 exhibit booths and over 10,000 guests expected, the upcoming 2016 IGES/SSS shows will feature leading exhibitors in the resort, souvenir and gift industries. In addition, as a special perk for buyers attending the show, IGES/SSS provides special show lodging rates for both individuals and groups at many of the areas most sought-after hotels and resorts. Additional travel information and area site seeing information and services are also available for those looking to attend. As in the past, a quick complimentary shuttle service is available to all registered buyers, comfortably ferrying them to all show locations, restaurants, shopping and more.
Buyer registration is quick, simple and free to qualified buyers. Please visit www.iges.us and click on Buyer Registration or call IGES at 800-430-7608 to register with a friendly staff member.