by Meaghan Brophy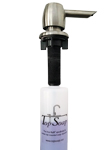 "30% of homes in America have built-in counter soap dispensers," explains Top Soap creator Michael Graziani. "Everyone who has one knows how much of a pain it is to refill. That means the potential market for this product is huge. Anywhere from 30 – 35 million customers." Graziani has created the first soap refill pack designed specifically for built-in counter dispensers. "I'm a general contractor and was working on a kitchen remodel, when the plumber mentioned 'We need an easier way to fill these up,'" says Graziani. A couple of months and patents later, Top Soap was born. Their motto "No Cleaning, No Cussing" reflects how most consumers are currently refilling their counter top soap dispenser.
The traditional "Cleaning Method" involves removing the soap pump from the top of the dispenser and pouring in soap from a value sized container, usually involving soap spilling all over the counter. The alternate "Cussing Method" involves going underneath the sink, unscrewing the soap reservoir, taking it out, pouring in soap, going back underneath the sink, and screwing the container back into place – all without hitting your head.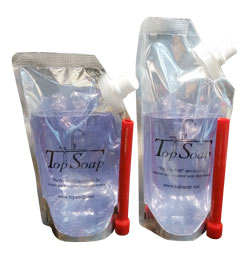 Top Soap simplifies this process by providing squeezable soap refill pouches containing the exact amount of soap the dispensers hold. Top Soap refill packs are available in 8oz and 12oz sizes, which are standard for counter soap dispensers. Simply pull the pump straight out from the counter and squeeze the refill pack directly into the soap holder. No more cleaning or cussing.
"Word of mouth has really spread," says Graziani. "Most people say 'Wow, that's a great idea.'" Customer and social media referrals have taken off, helping Graziani grow his invention into a full-blown wholesale distribution enterprise. Hardware, grocery, convenience, and any store that carries hand soap is a great candidate for offering Top Soap refills. Refill packs are completely customizable with different soap varieties and the packs can be custom-labeled. The most popular options are the traditional light floral scent and the moisturizing soap. Wholesale prices are between $3.75 – $4 for 8oz sizes and $4.25 – $4.50 for 12oz sizes. Suggested retail is $7.15 and $7.45 each. For more information, visit www.topsoap.net.