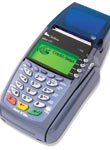 North American Bancard is a full-service credit card processing company that tailors its services to business owners across all industries. Launched in 1992, the firm now provides credit card processing capabilities to more than 150,000 merchants, with a staff of well over 700 full-time employees available to assist customers at all times. "We are truly here to help every merchant who currently takes credit cards or who wishes to do so in the future," states Brian Roth, manager of the company's wholesale division. North American Bancard provides merchants a broad range of services, including check acceptance, wireless payments, and smart phone and tablet processing. "One prevalent merchant service we offer is the cash advance," says Roth. North American delivers cash advances of up to $250,000 as an alternative to conventional business loans. The amount is based on an applicant's credit card receivables.
Retailers can use North American Bancard's services to accept all major credit cards, including American Express, Discover, VISA, and MasterCard, as well as gift cards and electronic checks. "They also receive comprehensive industry reporting packages to help them keep track of sales, inventory and customer data," Roth continues. "We have a no setup fee and we offer many options. The best thing to do is call our sales department at 866-481-4604 to review all of the programs."
To get retailers started, North American supplies the hardware to put its services into action. "Our free credit card terminals are one of our most popular perks," Roth points out. "We offer the latest credit card terminals and the most advanced software technology has to offer, combined with payment solutions designed to fit any business need." Retailers can choose from several specialized credit card machines, as North American Bancard offers all types of payment terminals, including those with phone line, high speed, wireless and smartphone/tablet capabilities. Roth points out, "Our smartphone/tablet processing will work with Apple, Android and Blackberry products." The company's mobile payment system delivers email receipts, tracks inventory and keeps customers' personal data secure. All North American Bancard products equip retailers with flexible payment plans and speedy card authorizations, and technical support is available around the clock.
"The best way for a merchant to navigate our different options is by enlisting the help of our sales department," Roth stresses. "Working one on one with a representative will help you determine what your needs are, and what the best solution is for your individual business." North American Bancard also offers to meet or beat any competitive rate quote retailers receive.
For more information:
North American Bancard
Toll Free: 866-481-4604