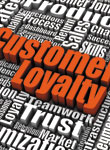 By Marc Glazer, VP of Brand Loyalty, Kobie Marketing
To say "Big Data" is foundational to measurable and sustained success for a customer loyalty strategy is a big understatement. Data is what separates successful marketing programs that have incremental impact from promotional, goodwill or long tail campaigns. The issue is that many retailers are data rich and knowledge poor. While marketers capture as much data as possible about their customers, few know how to convert it into actionable intelligence that modifies behavior, drives loyalty and maximizes sales. While many independent retailers have loyalty rewards programs, most simply offer price discounts via sales/coupons and don't begin to maximize a truly segmented approach to customer data. Dreams of one-to-one marketing are more real than ever but must be optimized by understanding members' true behaviors. More and more loyalty marketers are realizing that the key to real loyalty is making it a "win-win" for business, meaning that, in addition to endearing a customer base to their brand, their loyalty program becomes a new revenue stream.
The analysis of the data is essential. It is what creates the ideas needed to find the right value propositions that connect the dots between retailers and their customers. When retailers collect, store and analyze a variety of data points about their customers, they begin to uncover unique strategic and tactical marketing opportunities. For example, if retailers log and analyze transaction times, they can create compelling offers, such as discounts and cross-sell offers, based on the insights uncovered to drive shopping behavior to new days of the week, or time slots that are underperforming. If shopper profile/preferences are captured, they can be cross-referenced with transactional behavior data to validate shopper demographics and likely product interests that retailers may not be tapping into. For example, if a shopper expresses an interest in organic products, or similar lifestyle activities, yet only purchases one specific item associated with that interest, the opportunities for comparable items or related category cross-sell abound.
In addition, it is essential that independent retailers have the right technology and execution operations to deliver on their promise of the brand and loyalty program. Once in place, each customer profile provides a unique history of past purchases, buying habits and even decision trees, which can be used to identify motivations and predict future spending. Combining the ideal offer and personalized message across every channel customers can use, especially online and mobile, opportunities to increase engagement, drive behavior, grow revenues and, ultimately, build brand allegiance are endless.
As first steps though, retailers need to assess their existing loyalty program and technology platform, and decide whether they have the capabilities to mine and leverage customer data. They also need a companywide commitment from C-level executives to front-end employees, and the financial willingness to implement new loyalty strategies seamlessly across all channels in a consistent manner. Often this requires upgrading to the right technology platform that can facilitate the conversion of loyalty currency to real dollars, discounts or rewards. In addition, retailers must implement the metrics and resources necessary to monitor and gauge effectiveness so that programs can be refined as needed.
With the ability to segment data into actionable intelligence that can be personalized and made relevant to each customer using their preferred mode of communication, the results will quickly speak for themselves, as more motivated buyers help to maximize ROI. One best-in-class independent retailer that has a fantastic loyalty program is Giant Eagle Grocery. Giant has done an excellent job of linking fuel and grocery together to empower customers to earn/burn program currency on either transaction type with premium rewards and accrual rules based on using various payment card types.
Tapping into Big Data effectively won't happen overnight but time is of the essence and you can bet some of your competitors are ahead of the curve. However, once you have the ability to segment data into actionable intelligence that can be personalized and made relevant to each customer, using his or her preferred mode of communication, you will quickly see how motivated behaviors help maximize ROI.
Marc Glazer spearheads the Brand Experience practice at Kobie, a confluence of communications and marketing strategy experts and seasoned creative professionals. This team works with clients on program branding, messaging, segmented communications and creative execution delivered across digital, social, mobile and traditional channels. An accomplished marketing communications professional, Glazer's 20 plus years' experience have been earned on both the client and agency sides of the industry. Glazer is a former ADDY award winner.