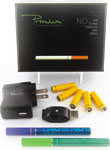 Under the umbrella of the United Tobacco Vapor Group (UTVG), Premium Vapes Electronic Cigarettes launched in 2008. Four years later, Premium Vapes is making strides that are shaping the structure of the electronic cigarette industry. The company not only sells e-cigarettes in numerous styles, but also educates retailers about the product. The more familiar retailers are with the e-cigarette industry, the more success they will have with product sales. Customers of Premium Vapes are guided to e-cigarette education websites when they work with this savvy distributor, to help them become more fluent in the language of the industry.
Premium Vapes CEO, Vitali Servutas, was recently in Europe working to expand the company's customer base overseas. The firm makes it a priority to take a tactical approach to growth, constantly penetrating new markets and entering new stores, with the European market being one at the forefront. "Every day we breathe and live electronic cigarettes," Servutas admits. The company devotes itself as much to shaping the industry as it does to selling products. Servutas notes that many retailers he works with are unaware that e-cigarettes are a tobacco product, and this detail is of utmost importance in order to sell them successfully.
Electronic cigarettes have been classified as a tobacco product since the ruling was passed on a lawsuit between UTVG and the FDA in 2011. "Even so, there are a number of companies selling cartridges and vapors without doing any form of age verification online, and without any clear guidelines about selling to minors," says Servutas. "A part of what we try to do is educate retailers about best practices for selling this product, and educate companies we work with, not just from the standpoint of being a brand, but also as part of an association, so that retailers know exactly what we are." The company strives to teach retailers who sell electronic cigarettes that they should adhere to tobacco industry standards already in place. Premium Vapes encourages retailers to familiarize themselves with the Electronic Cigarette Association (TVECA), a nonprofit organization dedicated to mediating on behalf of the e-cigarette industry. The TVECA answers questions surrounding the product and the industry, and establishes industry standards so that retailers have a reference to follow. With many states working to change the way that e-cigarettes are regulated, it is essential that buyers and sellers stay on top of industry news and trends.
At Premium Vapes, the best seller is the PR110 kit, a complete starter kit with two rechargeable batteries, five cartomizers, a USB charger and an AC adapter. One of the company's outstanding features is its wide selection of products that can be customized to suit individual tastes. Premium Vapes has 20 different flavors to choose from, five different nicotine levels, and 14 different colored batteries. "Our products can look like cigarettes, or they can look nothing like the real thing, depending on the customer," Servutas offers. The newest item is the EGO model, which features a thicker battery with four times the lifetime of the traditional battery. The company also offers cigar and pipe style devices, and recently introduced a miniature disposable edition, geared more toward retailers looking for an easy introduction to the line. Most models are designed to work with the same type of cartomizer, so retailers don't have to stock additional inventory to correspond with each device. Whether through a pipe, cigar or cigarette, customers are able to enjoy all 20 flavors from the same line of cartomizers.
While there is no minimum wholesale order, Servutas advises opting for a $200 to $300 starter package, with an enclosed display. "Retailers can sell the products for a 100 percent markup and double their money," he says. Suggested retail prices range from $5.95 to $9.99 for most products, with some items able to bring in $20 apiece. In terms of trending products, the hottest item at Premium Vapes right now, and throughout the electronic cigarette industry, is the disposable e-cigarette. "That's something we offer in two packages; a 500 puffer, which is equivalent to about three packs of cigarettes, and a miniature, which equals about a pack," Servutas explains. "Three or four years ago, this kind of pack used to sell for $170 to $200. Now, you can go to a gas station and buy disposables for $5 to $10, so the product is now more accessible than ever, and is much easier on a consumer's wallet."
The electronic cigarette industry has grown tremendously over the last few years. When the Wells Fargo Securities Tobacco Talk conducted a survey this year, it found that the e-cigarette industry has grown to $300 million at retail, and is expected to reach more than $1 billion within the decade.
For more information:
Premium Vapes Electronic Cigarettes
552 Central Drive Suite 101
Virginia Beach, VA 23454
Tel.: 866-242-9210
Website: www.premiumecig.com