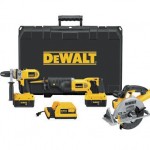 Delancy Tool, Boundbrook, NJ, which started as a pushcart vendor about 60 years ago on Reade Street in New York City, selling closeout tools and other items, is moving to the next level of growth as the new decade unfolds. But on the first anniversary of his death, all members of the company are remembering its beloved President, Steve Baumrin, who passed away February 28, 2009, at age 56. "This is a third generation family business," notes Anna Tarasiewicz, Office Manager. "It was passed from Steve's grandfather, to his father, to Steve. "The company is successful due to Steve's honesty and integrity, and great knowledge of the tool closeout business, that has brought it to the height it has reached."
Besides being a terrific business person, Tarasiewicz recalls, Steve Baumrin was, "vivacious and fun loving." He loved painting in his studio, and chronicling his life through his art and poetry. He was deeply loved by his family and friends. It is said that he was there for everyone, and didn't know the word, "no", when it came to being kind, generous and compassionate.
His wife, Melanie, has taken over Delancy Tool as President, ably assisted by Tarasiewicz and Allan Isaacs, warehouse manager. "We will now be moving Delancy Tool to the next level of growth, because that would have been Steve's wish," says Tarasiewicz. "We are going to The ASD Show in Las Vegas to sell, sell, sell, and are looking forward to new merchandise. The closeout business is one where you need ever changing merchandise, every single week. We have buyers scouting around for new deals all the time, " reports Tarasiewicz.
"We will be enhancing our website as well, and are looking into a retail store down the road at the company headquarters. When that store opens, contractors will be able to walk in if they need a power tool, or if they just need a drill bit. We are not only shipping across the nation, but we are also open to the public who can come in, browse our warehouse and browse our showroom."
Please visit Delancy Tool during the ASD Las Vegas Show, Feb. 28-March 3, at the Las Vegas Convention Center Lower Level Booth #L5122.
For more information:
Anna Tarasiewicz, office manager
Delancy Tool Company
8E Easy Street
Boundbrook, NJ 08805
Tel.: 732 868-8150
Website: www.delancytool.com