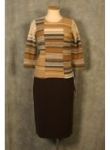 Overstock Avenue is a Charlotte-based wholesale overstock distributor. The company specializes in the purchasing and liquidation of overstock merchandise from the top upscale specialty retailers and department stores in America. Included in the inventory is overstock clothing and apparel, lingerie, footwear, housewares, accessories and more. Best of all, Overstock boasts prices well below wholesale.
Overstock counts among its customers retailers, distributors, brokers and other wholesalers who deal in bulk wholesale quantities. Through the website, www.overstockavenue.com, the company provides a regularly updated overstock catalog. Overstock has its own warehouse, from which it ships, and also ships directly from the distribution centers of retail partners nationwide. Customers may also sign up for the Overstock Alerts mailing list to keep up with special promotions and new products.
Overstock is able to deliver top quality apparel, footwear, lingerie and accessories at low prices, in part by partnering with some of the country's top upscale department stores and specialty retailers.
The company acquires inventory from its suppliers, deriving from overstocks, shelf-pulls, and customer returns below original cost. These savings can then be passed on to  customers, including retailers, brokers, distributors, flea marketers, wholesalers and eBay sellers. Name brand merchandise can be found at a fraction of the retail price. Much of the inventory is available for as much as 75-90% off.
Formerly known as Madison Avenue Closeouts, Overstock Avenue is a member in good-standing with the Better Business Bureau, and an active member of the local Chamber of Commerce. The company also claims a reputation for top service and merchandise.
Contact:
Overstock Avenue
5400 W WT Harris Blvd. Ste. R
Charlotte, NC 28269
Ph: 866-795-7990
Website: www.overstockavenue.com