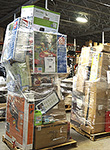 Discount Truckloads, reverse logistics experts with over fifteen years of experience, are planning a large presence at the ASD Marketweek trade show this July 31st – August 3rd. "It's our first time having a booth," says Discount Truckloads VP of Sales Paul Stansbury. "We're going to have tie-ins with other companies and sponsor some ASD events. We're looking to have a lot of fun, bring a lot of samples, and offer a lot of show specials."
Discount Truckloads handles a wide range of merchandise with specialties in apparel, general merchandise, and electronics. "We are very strong in apparel," says Stansbury. "It is one of our biggest categories." Their suppliers include national brands such as Wal-Mart®, Target®, and Amazon®, so retailers can expect a variety of low-priced products. Stansbury and his team will be offering "a ton of show specials," including even further discounted pricing and unique merchandise.
While their pallets and truckloads are great steals for brick and mortar retailers, Discount Truckloads also has a long history with online sales and tech communities. "We have a huge history of selling on eBay," says Stansbury. "We have programs that we built around our knowledge specifically for online sellers. One of our most popular programs is for Amazon® customer returns and overstock. We pull those products, reprocess, and sell them back. We do this for every product category." Discount Truckloads also focuses on working with smaller companies that do online sales. The company can offer help and support for new businesses just getting off the ground. "This is an often overlooked segment of the reverse logistics field," notes Stansbury, "and we have an entire dedicated ecommerce department."
At ASD, Discount Truckloads will be showcasing both their merchandise and their reverse logistics services. "We're really focusing on building partnerships," says Stansbury. "We look at all our customers as partners. The relationship doesn't end with the sale. We focus on helping our customers create sustainable business models. Our customer loyalty is very strong because we have that trust."
To learn more about Discount Truckload's service and merchandise, visit www.DiscountTruckloads.com or visit their booth at the ASD Marketweek show in Las Vegas.