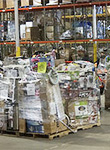 "We have a 15 year history in customer returns and reverse logistics," says Discount Truckloads VP of Sales, Paul Stansbury. Discount Truckloads is a wholesale supplier of retail returns, customer returns, shelf pulls, overstock, liquidation, and closeout merchandise with additional offer processing and remarketing services.
Originally founded in 2001 as an electronics company, Discount Truckloads has significant knowledge and ties to the tech and online sales communities. "We have a huge history of selling on eBay," says Stansbury. "We have programs that we built around our knowledge specifically for online sellers. One of our most popular programs is for Amazon customer returns and overstock. We pull those products, reprocess, and sell them back. We do this for every product category." They also specialize in working with smaller companies that do online sales. "This is an often overlooked segment of the reverse logistics field," clarifies Stansbury, "and we have an entire dedicated ecommerce department."
Discount Truckloads is also proud to be the pioneer company in a cellphone recycling fundraiser program that reaches half of the public schools around the country. "Kids go home and collect old cell phones from their parents, bring them in to school, we reprocess them, and give the school a check," explains Stansbury. Their expertise and wide-reaching charitable efforts have helped earn Discount Truckloads a distinguished reputation.
"As a company, we focus on building partners. I guide customers in an honest direction that will work well for them. As we're traveling throughout the country, we often visit our different

customers to really get an understanding of what their needs are. They know they can call me at 10pm if they're stuck on a problem and I'm going to help them through it and we're both going to learn from it. Our customer loyalty is very strong. We consider our buyers partners who come together to strengthen our power collectively. We're only successful if they are profitable," says Stansbury.
Discount Truckloads provides pallets, truckloads, and reverse logistics services for all 50 states and Mexico. For more information visit www.DiscountTruckloads.com.