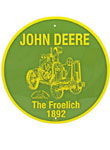 DP & Company Inc. (DPCI) wholesales a wide selection of tools and tarps, airsoft guns, novelty tin signs, self defense items, knives and swords, sporting goods, tactical gear, toys and more. Doing business for more than 30 years, DPCI was founded by Dick Powers, and has been owned and operated by Dave Eddy since 2002. The company continually adds new products and new product categories to its line to provide customers with fresh merchandise. "We try to stay as diverse as possible, and continually phase in popular items," notes Michael Averett, marketing director.
Authentic tree camouflage pattern tarp
DPCI started out selling tools and tarps, which are still the company's main focus. "They are our meat and potatoes, and we have over 2,000 products in the tool category alone," Averett states. "They are good quality and affordable. The majority of retailers who buy and sell our tools are mom and pop shops and flea market vendors."
DP & Company has just introduced an exciting addition to its line of tarps. "We created a tree camo pattern that we have copyrighted and trademarked, and we are having it printed on our tarps under the Lost Woods Tree Camo brand. There is nothing else like it on the market," says Averett, who designed the pattern. "It is really attractive to hunters for a variety of uses, including covering equipment, concealing tree stands, and hiding themselves as far as a ground blind."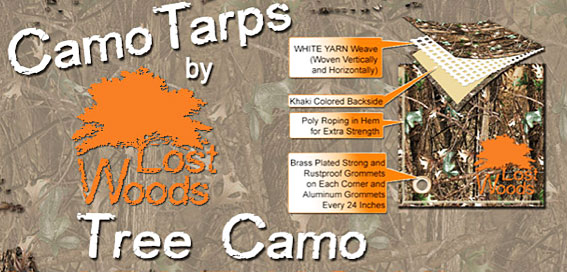 The Lost Woods Tree Camo tarp expands DPCI's line of tactical gear, another of its major categories. "We got into tactical gear because we are a very large distributor of airsoft guns.  Many of our airsoft customers requested accessories such as holsters, vests and protective gear, and we were happy to oblige," Averett explains. "Another wonderful category for us is novelty tin signs. They are especially big sellers around the holidays. We started carrying novelty tin signs about three years ago, and we now have over 400 different signs. Most of them are licensed, like John Deere, Coca Cola and sports teams, for example. We also carry 800 to 900 styles of folding knives."
New website, loyalty program and drop shipping
The company offers more than 5,000 products in numerous categories, and recently overhauled its main wholesale website. Streamlined and easy to navigate, the new DPCI site is formatted to be responsive, so whether customers are visiting from a desktop computer, tablet or mobile phone, the website is resized to properly fit any screen. "Another great feature is our real time shipping calculator, which takes the weight of the shipment and puts it through the API (application program interface), to generate an exact shipping cost," Averett points out.
In addition, the company rewards customers with a loyalty points program that provides five points for every $100 purchased online. One point is equal to $1. Points can be used on future orders, and they never expire. DPCI also offers a drop shipping service through a separate site, which has the same product list as its wholesale site. "During the holidays, sales on dropforyou.com double," Averett shares. The company's minimum order is $100, and orders received by 1 pm EST ship the same day. DPCI's products generally retail for double the wholesale price.
DP & Company Inc.
7743 State Road 471
Bushnell, FL 33513
Tel.: 800-421-9755
Website: dpciwholesale.com and www.dropforyou.com