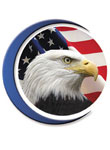 Eagle Trade, formerly American Eagle Trade Group, has refreshed its image and updated its website, while preserving the company's 25 year history of providing quality and affordable American fashions to the world. Eagle Trade stocks an inventory of America's most popular brands, styles and sizes, because it has exclusive contracts with large U.S. department stores. "We get the most trendy, fashionable, popular customer returns, overstocks and irregulars clothing," states Ryan Frankel, marketing director. "All of our merchandise is sourced from famous department stores, and retailers that carry both national and international brands." Because some trends such as animal prints and vivid colors continue from season to season, retailers are assured they will receive popular goods at the lowest possible prices.
Big profits in American fashion mixes
Eagle Trade's merchandise is generally first quality, Frankel stresses. "We do a lot of work in this area. We have more than 100 employees in our warehouse dedicated to grading and sorting alone. We put a lot of effort into making sure we are providing the cleanest mix on the market." The firm's two main products are exclusive American fashion spring/summer and fall/winter mixes. These include a variety of clothing for infants to adults size XL. "We constantly update our mix, daily or weekly depending on the products we receive and trends, to help our customers earn higher profits. This unique formula allows our customers to take full advantage of our knowledge, price and diversity. Our mix has proven successful for hundreds of businesses all over the world, distributing our products to tens of millions of people," Frankel continues. Items wholesale for $1 to $5 apiece, and wholesale is 75 to 90 percent off original retail prices.
Specialty is soft goods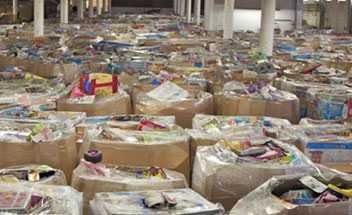 Another benefit Eagle Trade offers retailers is a dedication to soft goods. The company is the only wholesale distributor and liquidator focusing solely on clothing, shoes and accessories. "We specialize in clothing, and our customers profit from our experience and knowledge. Soft goods are only around ten percent of other liquidators' businesses, as most focus on hard goods," Frankel explains. Retailers can learn more about Eagle Trade and its exclusive offerings at the company's recently refreshed website. It is now more user-friendly, and includes detailed product information and numerous product pictures.
Eagle Trade has a minimum order of one pallet, with prices starting at around $1,000, and the majority of the company's business is by the truckload. Typical international buyers include retail chain stores, wholesalers and exporters, while the firm recently broadened its domestic market to include independent retailers. Eagle Trade offers quick turnaround times, convenient payment terms and multilingual sales support.
Eagle Trade
3690 NW 62nd St.
Miami, FL 33147
Tel.: 305-634-4766
Website: www.eagletrade.com