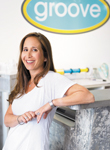 Corri Neckritz started selling apparel out of her home in 2007 after experiencing frustration with the limited selections while shopping for her own kids. Flash forward to 2018 and she is the owner of Groove, a one-stop-shop for apparel, gifts, novelties, and more for babies, kids, teens, and adults. Groove has two locations: one in Westport, CT and the other in New Canaan, CT, each over 3,000 square feet. When we met with Corri, she laughed, "We tripled our space in less than a year." 
Groove started as a brick-and-mortar retail store in Westport in 2012. But, Corri says, they were "busting at the seams," in the smaller space. "I'm a heavy-handed buyer," she says. In 2016, they moved to the larger space they are in today. In March 2017, Corri opened her New Canaan location. 
The thought of overbuying is terrifying for many retailers. But, being a "heavy-handed buyer" is part of what allowed Groove to expand so quickly. What started as a home-based apparel operation now includes gifts, toys, fun impulse items, and even a "candy vault" with by-the-pound goodies and sweets-themed gifts. 
"I'll try anything once," Corri says. And if a customer asks, they will likely receive. Whether it's custom embroidery, handpicked gift baskets, or an order placed over the phone, Corri and her staff are in the business of making it happen. 
"It's all about the right staffing and about really knowing your customers," says Corri. "We know most of our customers by name," she says. And when it comes to staffing, "it has to be someone you can trust with everything." With a staff of 16 people to cover both locations, that is no small feat. However, as Corri and I were talking before Groove opened for the day, customers were already texting staff members to ask about certain items and to put in order requests.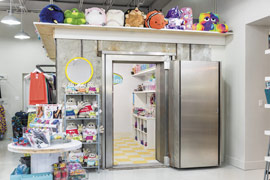 Corri says Groove has such a strong connection to the community because they truly make an effort to give back. They host regular fundraising nights and "Shop for a Cause" events, where a percentage of sales go towards a local group or organization. Instead of heavily discounting her items, Corri also donates unsold merchandise to Stamford Clothes for Kids.
Groove's success can also be attributed to Corri's drive to make Groove a "one-stop shop." "If there's a hole," Corri says, "I want to fill it." There isn't a toy store in town, so Corri incorporated more gift and novelty items. She also designed birthday registries, which are a huge success. Birthday registries ensure Groove is the top destination for birthday parties and significantly cuts down on returns. Groove also offers party favors, custom gift bags, gift-wrapping and tagging.
"I'm always learning and I'm always trying new things," says Corri. She works at both stores every day, visiting the New Canaan store in the morning before opening, then heading to the Westport store to work the floor and help customers. "I'm always working, always high energy, but you have to love it," she says. "It's about selling and moving merchandise but having fun while you're doing it."
Back to School Buying Tips from Groove
1. "We start buying for back to school in January," says Corri. She buys basics such as leggings and backpacks that she knows she will need and will sells lots of early on, so she can stock up before suppliers run out.
2. "We buy our basics then fill in later," Corri says. Though Corri starts purchasing staples in January, she buys some of the trendier pieces closer to the season.
3. "Stars, camouflage, and side-striping," are some of the major back to school trends Corri predicts for this year. Side striping has been very popular on women's pants and is now making its way down to kids, she explains.
4. "It's all about cool comfort." Corri says more and more people are wearing sweats as everyday wear, both adults and children. So casual and athleisure items are must-haves for this back to school season.