By Kevin Zimmerman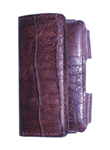 When you are an American company that specializes in handcrafted, Western-styled leather goods, "Made in the U.S.A." is an important selling tool. That is the philosophy at Indiana-based Gingerich Leather, a family-owned business whose owner and president Tim Miller says the "Made in the U.S.A." promise is key to success. "That's the number one marketing tool that we use," he says. "It's a phrase that indicates high quality that can be relied upon."
It certainly is standard at Gingerich, which grew out of the Gingerich Harness Shop started by his maternal grandfather years ago. After his passing in 2005, Miller and his wife renamed the company Gingerich Leather to reflect the fact that it now sells hand-crafted iPod, iPhone and Kindle cases in addition to its mainstay, 105 styles of belts, which he estimates makes up about 85 percent of its sales.
Initially Gingerich Leather also sold replica Indian-style saddlebags for motorcyclists, but since 2014 it has focused on belts, wallets and the aforementioned accessories. The branded "Buffalo Billfold" line has proven to be extremely popular, and again comes with the "Made in the U.S.A." imprimatur.
Gingerich utilizes natural skirting leather familiar to horse riders, as well as Andreas and English leather, to manufacture its high-quality goods, which are often embossed in an antique Americana style to underscore its homegrown authenticity. More exotic bison leather is also used for some products. Again, stressing Gingerich's workaday styles, Miller notes that the firm "does not sell a high-end line – you're not going to find a $300 belt here."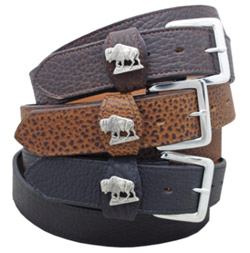 Intriguingly, Gingerich Leather does not maintain its own website; instead, the wholesaler sells its inventory to third party seller YourTack (www.yourtack.com), which in turn sells to retailers. YourTack also promises that all of its products are 100 percent American-made, with free shipping for orders of $99 or more.
Direct orders can be made from Gingerich's catalog, which is usually published once a year. The firm also regularly sends out special brochures to tout new styles. Miller estimates that half a dozen such styles are added each year, based both on industry trends and on what customers say they are looking for. "Our inventory grows every week," he says. "We currently mail out catalogs and brochures to about 230 to 250 stores."
"Advertising has been a great way for us to draw new customers," Miller says. "We also get a lot of business from trade shows, and we have hired a couple of sales reps who have been able to pick up additional revenue for us."
While there is really no "off season" for belts, wallets, and the leather accessories that Gingerich sells, Miller notes that the fourth quarter is usually his busiest time. "From October to December 31 is really crazy for us," he remarks. The majority of Gingerich Leather's sales are in the United States and Canada. "We don't really have many customers outside of those territories," Miller notes, "but we are certainly open to international sales. That's something we would like to see increase in time."