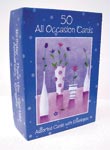 Greeting cards made in the USA are a top consumer trend, according to the Greeting Card Association. Americans purchase around seven billion cards per year, with annual retail sales estimated at more than $7.5 billion. Whether a stand-alone item or an accompaniment to a gift, greeting cards, like those created by Gallant Greetings Corp. and P.S. Greetings, Inc., generate high revenues within the gift industry, year after year. "We got started about 60 years ago by manufacturing inexpensive boxed greeting cards," says Don Wilkin, national sales manager of P.S. Greetings, Inc. "Since then we have been doing a great deal of manufacturing for large companies, which has kept us extremely busy."
During the months following the Christmas rush, Wilkin finds that sales of assortment boxes are on the rise, and those with glitter are poised for the best sales. "That type of embellishment is very popular these days," he points out. In the growing market for $.50 and $1 cards, P.S. Greetings, Inc., along with its boxed card component, Fantus Paper Products, prides itself on offering more embossed, foiled and glitter adorned cards for this price point than many other manufacturers in the U.S. "We are trying to give end customers more for their money," states Wilkin. Boxed cards from Fantus Paper Products wholesale for less than $20 in volume for 36 boxes, each containing 10 cards. Individual cards from P.S. Greetings Inc. wholesale for $46.50 for a 15-pocket display of 180 cards, and $54 for 36 jumbo cards, which measure 16.25 by 24 inches. The minimum order is $100, but Wilkin encourages retailers to ask about current coupon codes to receive 10 percent off their first order.
"The real key to selling cards is to have a lot of color," Wilkin points out. This means stocking colorful cards, bright boxes, vibrant envelopes and eye-catching displays, and Fantus Paper Products has these shelf displays available upon request. This is critical in selling birthday and party cards, as well as more somber cards carrying recovery messages or condolences. Furthermore, Wilkin finds that marking cards and boxes as being "Made in America" helps them sell.
Much like Fantus Paper Products, fellow Chicago card company, Gallant Greetings (launched in 1966) has a specific approach to making its cards best sellers. The company serves a wide range of customers from small shops to mass retailers, and offers individual cards in both everyday and seasonal themes. Gallant Greetings goes the extra mile to help its retailers by customizing their card selections, based on analysis of the demographics and buying interests of end consumers. "If one of our retailers is located close to a hospital, for example, we'll make sure they have a larger selection of get well and sympathy cards," comments Cathy Moritz, president of Gallant Greetings. In addition, the company offers a merchandising display to help speed sales. Store owners typically blend different types of cards into these displays, Moritz points out, "because standard consumer behavior is to shop a rack. If someone is looking for their daughter's birthday card, for example, they would likely prefer to see a whole selection to determine which one fits best." Moritz suggests placing card racks at the front of retail stores, so shoppers can purchase cards on impulse.
While Gallant adheres to a minimum order of $100, the company allows mom and pop shops to offer discount programs if they wish to deviate from suggested retail prices, which fall between $2.25 and $3.50. "We don't have any restrictions," Moritz says. "It's the retailer's choice." Wholesale pricing may be obtained by contacting Coreane Mangione at 800-621-4279.
In preparation for the National Stationery Show in New York City this spring, these and other card makers will continue to add new artwork and messages to their catalogues. At the show, retailers will have an up close look at fresh designs, and gain access to the latest industry research. "The market for real cards is still quite strong, no matter the direction in which it shifts," comments Wilkin. "I'm certain you can't quite humor people electronically the same way you can with a card. When you open a card, there's always an element of surprise."
For more information:
Fantus Paper Products
5730 North Tripp Ave.
Chicago, IL 60646
Toll Free: 800-621-8823
Website: www.fantuspaper.com
Gallant Greetings Corp.
5230 North Tripp Ave.
Chicago, IL 60646
Toll Free: 800-621-4279
Website: www.gallantgreetings.com