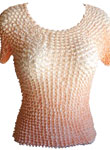 The allure of the East can be particularly compelling when it comes to fashion, and Oriental Apparel Inc. has been capitalizing on this attraction for nearly a decade. Wholesaling unique clothing and accessories imported from China, the company specializes in a broad range of popcorn, coin, beaded, crush and sequin textured shirts, dresses, jackets, scarves, shawls, handbags and more, for women and children. Oriental Apparel consistently introduces new merchandise in seasonal solids, as well as pretty prints in sizes ranging from regular to 4XL. "We have something for everyone," says owner, Ling Yuan. "People love our distinctive merchandise."
One particular favorite of Yuan's is her popcorn line, which is smooth and stretchy, yet has a bumpy look and comes in a variety of colors. Popcorn fashions are popular for spring and summer, in part because they are ideal for traveling. Lightweight, small, and easy to hand wash and dry, popcorn clothing is small in its natural form and stretches to fit almost everyone, Yuan points out. These trendy fashions for adults and children come in an array of fits, including shirts with long, capped and short sleeves. One Oriental Apparel short-sleeve shirt which wholesales for $8 has smaller popcorn, for a pearl effect. Another short sleeve version is made of regular size popcorn and wholesales for $5. Tops are made of 100 percent polyester and come in a wide variety of colors, including slate blue, emerald green, tan, lavender, bright red and others. "We add new colors all the time," Yuan notes. "Since one size fits most people, these are great for giving as gifts," she adds.
Popcorn handbags, which complement the shirts, are heavyweight 100 percent polyester and wholesale for $6. Another hot product line is mini-pleat, reversible, crush style clothing. It is classic looking and wrinkle free, according to Yuan. The company's satin crush reversible jacket with two pockets on each side is available in three sizes: S/M, L/XL and 1X/2X. It wholesales for $24. Crush short sleeve satiny shirts are "one size fits most," and wholesale for $12. Beaded clothing, on the other hand, is presented in various forms such as a Latina tunic, which wholesales for $12, knit spaghetti strap, also selling for $12, and poncho, priced at $16. Another nubby textured product line the company sells is known as coin. The coin cardigan, which also travels well, wholesales for $9 and is available in several spring shades, including pale pink, soft gray and sea foam green, as well as in several artsy prints. The matching coin tank top wholesales for $5.
Oriental Apparel sells many items online via its webpage, which is hosted by WholesaleCentral.com. Product categories are listed in a simple left-hand directory, which links to informative pages and colorful photos. The website also allows easy access to wholesale prices, and provides check out and shopping cart functionality. There is a minimum order of $200. With its extensive line of Asian clothing and accessories, Oriental Apparel provides independent retailers with items that add an exotic touch to product lines.
For more information:
Oriental Apparel, Inc.
171 Ranger Ave., Unit D
Deland, Florida 32724
Tel.: 386-383-2618
Website: www.wholesalecentral.com/orientalapparel/store.cfm