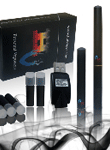 While many electronic cigarettes (e-cigs) on the market target smokers looking for an alternative to the traditional cigarette with its 4,000 plus harmful chemicals, HotVapes has brought its personal vaporizers and homemade vapor liquids to market for not only those alternative seekers, but also smokers looking for a new way to possibly curtail the habit. HotVapes' liquids come with five levels of nicotine, which include 0 milligrams, 6 mg, 12 mg, 18 mg and 24 mg. The option of personal vaporizers ranges from small rechargeable kits, to big devices for the e-cig expert, and now, disposable vaporizers. According to Tim Roche, co-owner of HotVapes, "It all about supplying variety in order to meet the needs of the heavy smoker, the social smoker and all who are in between." While HotVapes' current clientele is the standard tobacco or head shop, personal vaporizers are becoming regular items on convenience store shelves as well. The company's online store displays retail pricing, but Roche notes, "Wholesale prices for those retailers looking to distribute the personal vaporizers and the associated liquids are about half the retail price listed on the website."
HotVapes Offers Vapor Variety
HotVapes currently offers five lines of personal vaporizers, with a new addition of disposable e-cigs. Among its top sellers are its two smaller kits, the HV HardBox and the JewelBox Kit.
The HardBox Kit comes with: (1) atomizer, (1) black automatic or manual battery with red led, (4) tobacco-flavored 18mg nicotine cartridges, (1) 5pcs cartridges pack with or without nicotine, and (1) usb charger.
The JewelBox Kit comes with: (1) atomizer, (2) 510 batteries one automatic and one manual (with button), (5) tobacco-flavored 18mg nicotine cartridges, (1) usb charger, (1) wall charger, (1) magnetic jewel case, and (1) 6ml bottle of liquid in your choice of flavor.
Roche claims, "The popularity of these two kits is because of their price points. Also, as smokers switch from traditional cigarettes to e-cigs, they are looking for something that looks and feels familiar to them." The HV HardBox, approximately $15 wholesale, and the JewelBox Kit, close to $25 wholesale, are great starter kits with personal vaporizers that provide a similar feel and size to the traditional cigarette. "The bombshell, however, is for someone who has used e-cigs before, providing those smokers with big vapor and a good throat hit," explains Roche. Exclusive to HotVapes, the BombShell is solid aluminum with a recessed brass button. It is substantial in the hand but not too heavy, and capable of handling one 18650 or two rcr123 batteries. Currently available in five colors, true black, motobyke silver, gumball pink, big red and analogue blue, the Bombshell is not for the faint of heart at just over 4" tall and 1" in diameter. It can be purchased around $32 wholesale.
And while HotVapes' personal vaporizers are enough to attract customer attention, the company's homemade vapor liquids are what keep them coming back for more. Using domestically sourced ingredients, HotVapes offers not only the traditional tobacco and menthol flavors loved by smokers, but 27 flavored liquids that provide a gourmet experience. While some e-cig liquids on the market might leave a chemical after taste, HotVapes' vapor liquids provide a sensory experience. Roche says, "We have glazed donut and coffee flavors for those smokers who want to smoke with breakfast." Other flavors include Bellini, Blueberry Fest, Coconut Dream Pie and many more. "Many smokers start out with the traditional tobacco flavor, but soon find themselves wanting to test out all the other flavors," adds Roche. Liquids are offered in a 6 milliliter, 12 ml or 35 ml vile. HotVapes' vapor liquids are a 50/50 blend (pg/vg – propylene glycol/vegetable glycerin) for maximum balance of throat-hit and vapor production.
For more information:
HotVapes
Tel.: 773-719-3718
Website: www.hotvapes.com