by Shannon Flynn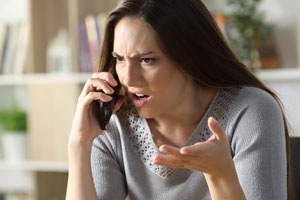 Many small business owners automatically view customer complaints as a negative impact, but that is a misguided assumption. When something bothers consumers so much that they contact the business letting them know they are not happy, such situations can create opportunities if handled well.
Listen to Customers
Shoppers typically give numerous specific details about what makes them unhappy. Rather than someone merely saying they do not feel their kids are welcome in a particular establishment, they will probably list the specific conditions causing them to be upset. If they complain about a store's prices or how a certain worker treated them, they will likely go into similar details.
Those on the receiving end should maintain an empathetic attitude and try to put themselves in the position of the complaining individual. How did the problem make their life more difficult, introduce inconveniences, or make them think twice about visiting the establishment again?
Customers want to feel heard and respected. They must feel genuinely heard and that the employee taking the complaint cares about the outcome. How a retailer's representatives deal with such feedback makes a tremendous difference in how shoppers feel about the overall exchange. Even if they have bad experiences, what happens afterward can positively impact their perceptions of the company, ultimately preserving the relationship.
Make Things Right
Turning a negative customer experience into something positive also requires company representatives to do what they can to address the issue and make things right. One option is to go beyond what shoppers expect.
For example, suppose a customer buys something that breaks a week later due to a defect. The expected response is for the company to provide a free replacement. However, customer service agents could also go above and beyond by offering the consumer a free item or a voucher for a generous discount on a future purchase. Sometimes, it is not possible to address every part of what went wrong, but the end goal is to make the consumer feel even just a little bit better about the situation. Retail managers should also strongly consider increasing the resolutions agents can make without supervisor approval. This way employees can act on the problem faster, minimizing customer delays that could exacerbate issues.
Keep the Customer Updated
It is not always possible to offer a shopper an immediate resolution. The agent who initially deals with the complaint may need to pass the customer to a manager. It is also often necessary to contact third parties associated with a business to determine the appropriate resolution.
Maintaining communication with the consumer is an excellent way to strengthen a lasting relationship and leave them feeling impressed. Company representatives should ideally provide expected timeframes, too. Doing that sets expectations and assures a customer someone is still working on the situation.
Another proactive option is to provide customers with the contact details of the specific person addressing the issue. Depending on the nature of the problem and its progress, such information could prevent a customer from waiting on hold for too long or describing their issue to multiple agents.
Respond to Online Reviews
With the power of the internet, anyone can publish feedback about good and bad experiences in just minutes. Many of the individuals who read others' reviews do not just want to know what happened to make someone upset — they are also watching to see if a business representative responds.
A 2022 survey on how consumers engage with local businesses investigated the importance of online reviews. It found that 89 percent of shoppers would be highly or fairly likely to do business with companies that responded to all reviews, whether positive or negative. Then, 57 percent said they would be not at all or not very likely to buy from businesses that did not respond to any reviews.
If a customer leaves an online review that gets no response, they may understandably conclude that no one at the company cares. A prompt and caring response assures them that is not true. Providing contact details within the review reply encourages the upset person to reach out and engage with the business in a structured way that could help resolve the matter.
Encourage Customers to Provide Feedback
Estimates suggest only four percent of unhappy customers leave reviews through formal channels. The others start doing business elsewhere without mentioning what went wrong. When consumers remain quiet about their negative experiences, retail representatives might never have a chance to address problems. It is also highly unlikely that a customer who voices an issue is the only one experiencing the problem. Hearing a complaint from one shopper creates opportunities for customer service representatives to dig deeper and look for emerging patterns.
One possibility is to send surveys to every customer and provide rewards for completing them. This might mean entering every respondent into a monthly prize drawing or giving shoppers discounts in exchange for finishing their surveys. Such efforts to get more feedback might not uncover any problems, but if they do, gaining knowledge of something amiss is the first step to fixing it.
Start Viewing Customer Complaints Positively
A complaint's impact on a business largely depends on how the customer service staff responds to it. Following these tips can help them convert unhappy shoppers into happy ones who are still willing to do business with the company and recommend it to friends.