By Jimmy Felton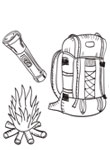 Campground stores are a great way to add a lot of revenue to the bottom line of any campground. Some stores even generate as much revenue as the campsites produce. Every campground should have a store that carries more than just sodas, ice and the camp's t-shirt. Campers need camping supplies and want to bring home souvenirs, making your potential customers a very captive audience. It's a lot like fishing in a barrel. Here's how to reel in the sales.
Interact with the customer
Selling is all about customer service. When a guest walks in, put down your book and walk them around with a smile on your face, to help them see all the good stuff in your store. When campers check in, tell them about your upcoming events. For example, if you hold a marshmallow roast on Friday nights, ask if they need sticks, and then try to upsell them by saying, "what else can we get for you? Ice, propane, floats for the pool?"
The $5 rule
Get rid of $10 bills in the cash drawer and give two $5 bills as change. When children ask their parents for money to spend, dad or mom will be more willing to hand over $5 to keep them quiet, instead of a $10 bill. By the end of the day, chances are that they will have passed out several $5 bills that were spent in your store. To make this rule successful, it is important to have a good selection of lower priced toys and candy under $5, but not all of your items should be for the kids. Premium goods for the customer with a higher price point are also necessary to help increase sales numbers.
Sourcing products
When opening a campground store, one of the hardest problems can be finding the right products to sell and where to get them. A good resource is your state's campground association. They can inform you about potential suppliers to connect with; for example, an RV parts supplier. Another resource to use is other local campgrounds. Speaking with them about where they source products will guarantee that you are buying products that sell.
Sell to your market
No two campgrounds are alike. What sells in a store in Tennessee may not sell in Denver. This is why it is important to sell to your market and provide them with the products they want and need. To start, keep a list of what campers are asking for that you don't currently carry. This is an easy way to put the right products in your store. Also, pay attention to your top selling items. Make sure you order them ahead of time, so you never run out.
Markdowns
To keep inventory moving and get rid of slow selling items, use markdowns. Keeping old inventory that isn't selling makes your store's assortment look stale, and it hurts your bottom line. Mark these items down, sell them and move on. Use the POS system in your campground reservation system to help keep track of what is selling, and how much.
Make connections
Every year, the Tennessee Association of RV Parks and Campgrounds hosts a dinner during the Souvenir Super Show in Pigeon Forge. This allows campground store buyers a chance to get together with others to discuss successes and difficulties. It's very informal, and a great place to network with other buyers from other states. You get to talk about what works in camp stores, and better yet, what doesn't work. Check with your state camping association and see if there are events like this close to your location.