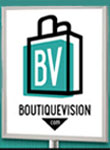 Boutique Vision is a new online service that provides custom in-store marketing materials to independent retailers. The site offers a variety of signage, sign fixtures, accessories and more.  The concept is to provide small retailers with access to the same merchandising materials featured in national retail chains.
Boutique Vision is owned and operated by InnoMark Communications, a provider of visual merchandising solutions for large retail and consumer packaged goods clients. As a division of InnoMark, Boutique Vision is able to offer small quantities at affordable prices. "We regularly produce high-volume projects for our retail clients. This allows us to purchase materials at a volume discount and maintain competitive prices for independent retailers," explains Melissa Molyneaux, marketing director.
Product and material recommendations
Small retailers can visit BoutiqueVision.com, and order sign fixtures and coordinating signage. The online catalog contains the fixtures, finishes, sizes and materials most commonly used in the retail market.  It also makes product and material recommendations based on application factors such as placement and longevity. Products are organized based on in-store placement to facilitate the search process.  Categories include window signage, counter signage, hanging signage and floor displays.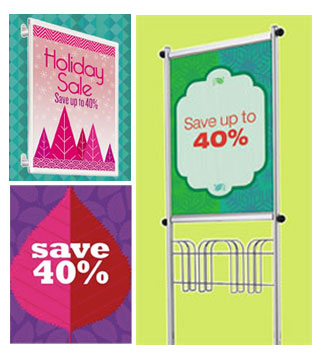 Boutique Vision also offers a variety of professional designs for customization at no extra charge. "We realize that many independent retailers do not have the budget to develop artwork through an advertising agency. Therefore, we have a small library of templates available for customization," Molyneaux says. "Of course, users also have the option to upload their own original artwork."
InnoMark Communications launched in 1991, and works with a variety of retail segments, including apparel, cosmetics, sporting goods, automotive and more. Its in-house capabilities include creative design, temporary and permanent displays, printed signage, store décor and fulfillment. InnoMark has won several awards, including POPAI's 2012 Outstanding Merchandising Achievement (OMA) Display of the Year Award. Zombie Wasteland, the winning display, was designed to promote Spirit Halloween's zombie animatronics line.
Benefits of merchandising signage
In-store marketing is useful to retailers of all sizes because it generates awareness and drives traffic, Molyneaux notes. "Many of our clients use window displays to attract shoppers during the major retail seasons. Back to school and holiday are often the most popular." Signage allows retailers to promote new arrivals, sales and seasonal merchandise. Framed signage can also be used to segment the store and help shoppers locate specific products. Smaller frames may be used on counters or tables, to communicate price points or percent discounts.
Ordering highlights
Boutique Vision offers a wide range of items to meet any budget. For example, a basic 22-inch graphic holder, which holds a 22-inch by 28-inch banner, is priced under $20. Retailers seeking a higher end solution, such as a metal floor stand with a frame on top, will spend around $245. There is no minimum order quantity for fixtures and signage, and all printed signage is produced in-house. Products are delivered in seven to ten business days.
Boutique Vision
Tel.: 855-889-5362
Website: www.boutiquevision.com