by Lisa Evans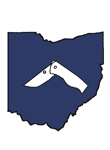 W. Keith Sanders was faced with quite a quandary back in 2000 when the company where he had worked for many years closed their doors. Using his smarts and experience as a vendor at local flea markets, he set up shop as a quality knife wholesale distributor and hasn't looked back. "16 years later we now have 6 employees, over 20 different brands and over 600 dealers in our network," Sanders says.
Having been directly involved in knife and cutlery sales himself, Sanders is very keen on listening to his customers. When it comes to finding or developing new products or new lines for Ohio Knife, Sanders explains, "we constantly question our dealer base to find out what they would prefer next, along with doing a little market research."
In fact, based on demand for product customization and personalization, Ohio Knife offers a laser etching service. " We have our own in house Fiber Optic Laser which is one of the best for marking metal. We are always telling our dealers that it is a great way to sell multiple items instead of one or two at a time. Because the laser is here, our turnaround time is only one extra day for order processing on etched products."
The quick turn-around and top notch customer service offered by Ohio Knife is just one aspect of the company's dealer-friendly atmosphere. Having a strong understanding of the quality and versatility of their product lines is also key. Sanders notes that "the Kershaw® knife line is one of the best "bangs for the buck" and about half of their line is still American made. The assisted open knife seems to be the most sought after knife since its inception and Kershaw® is actually one of the first companies to introduce that style."
For retailers looking to get started in selling knives or cutlery, Sanders recommends a varied product package to start. "We carry all kinds of price levels anywhere from $2.00 up to over $300.00 per knife at Dealer price, so we try to help the retailer design an assortment that best fits his clientele. In most cases we can offer free displays and banners to help them promote sales."
Ohio Knife has a very low first order minimum of just $200, with no minimum order for returning customers. The company also offers free drop shipping, competitive pricing, and the flexibility of the custom laser etching on many products. Retailers looking for more information are invited to call Ohio Knife or visit the company's website which details the many products available. A New Dealer Signup is available on the site as well. Sanders stresses that he and his team are always available for retailers to ask questions and are happy to provide personal service to all. For more information, please visit www.ohioknifesales.com or call 800-475-5922.