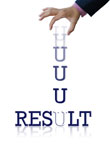 Social media are the go-to tools for galvanizing marketing efforts for businesses big and small. Set your retail store's social marketing efforts on the right track with the following advice.
Social Network Focus
You may want your business to have accounts on all the primary social networks, but this may have an adverse effect. Instead of dividing your efforts between multiple social networks, place your focus on one. The founder of Full Frontal ROI, Nichole Kelly, recommends your business to first find which network has the highest concentration of your demographic by using tools like Follower Wonk, Facebook's free advertising platform and LinkedIn's improved search features, according to Social Media Examiner.
For example, if your business specializes in arts and crafts, Pinterest is the go-to site. In order to launch a successful marketing strategy utilizing social networks, you'll want to know what competitors are up to.
"If you don't have different perspectives, you are going to probably make the wrong decision," says Mark Weinberger, the to-be CEO of Ernst & Young, according to the Washington Post. Even though, executive Weinberger is talking about business teamwork, his statement applies to the indirect teamwork between competitors in social network strategy. Competitors need not be the enemy. Learn from them and grow.
Facebook
Your business should be absolutely active on one of the most popular networking sites in the world. To get a feel for how Facebook can be used to further your interests, search for your competitors and glean their strategies. How are they posting and how often? Are they communicating with clients? Creating a Business fan page allows customers to become a fan of your business. The more fans your business obtains, the more your business will proliferate online. Every friend of every fan will see that they like it. Business owners must be proactive in maintaining their profiles: post new content, offer promotions, provide tips and announce business product or service updates regularly.
LinkedIn
LinkedIn is a social networking site for professionals. After reserving your company name, learn how your competitors are taking advantage of LinkedIn. If you're on a first-name basis with regular customers, you may also search and connect with them. These customers can then give you a recommendation that will appear on your page. Solicit these recommendations from clients, suppliers, vendors and so forth. For example, after a transaction with a customer, ask them to provide a recommendation if satisfied with the service or product. The more recommendations your business receives, the higher your LinkedIn profile will appear in search engine results, according to Mashable.com. You'll also want to seek the many groups on LinkedIn that are related to your business' products or services. If no group exists, create your own.
Social media marketing requires no capital outlay. Retailers who put forth the effort to research and manage a social media presence can take advantage of this opportunity to reach new and existing customers