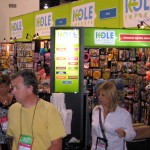 Twenty five years ago, when Danny Kole, his brother Rob and their parents, Pearl and Art Kole, launched Carson, CA based Kole Imports, it was essentially the two brothers and their dad working the telephones all day, selling general merchandise to discount variety stores around the country. The Kole brothers became very good at painting vivid verbal pictures of their products, because there was neither email nor Internet at the time, and people were just starting to use fax machines.
Soon after the business's launch, the dollar store phenomenon began to emerge, and Kole Imports made a 100 percent commitment to that market. "We switched our entire product line over, and went after the dollar stores," recalls Danny Kole, president of the firm. "Prior to that move, we might have been selling a ten piece kitchen knife set that would retail for $5 or $10. Now, we wanted one or two knives in a blister pack that could retail for $1." Kole quickly established a 300 item line that could be sold for $1 each at retail, which was unheard of in the very early stages of the dollar store business. As the phenomenon grew and more dollar stores opened, the store proprietors quickly found Kole Imports and its growing line of merchandise.
While adding to their line of merchandise, Kole Imports was just beginning to innovate in the dollar-retail market. For example, when Kole sold party favors, the company did not want to offer just two or three party favors; they wanted a complete line: 20 to 30 items. Another action Kole took was to quickly move away from letting the Chinese factories design packaging. As Danny Kole explains, "It is tough enough having graphic designers here in the U.S. come up with packaging that will sell well. Expecting Chinese factories to come up with packaging that would sell in the United States was just backwards. We paid a lot of attention to packaging," he continues. "That way, people could put our lines of merchandise into their stores without dealing with a mishmash of packaging designs. We created brands for different lines of merchandise."  Kole today is selling 5,000 items in 35 categories (and growing) today.
It was incredibly challenging in the 1980s and 1990s to come up with excellent merchandise that could be sold for $1. Today, it is even tougher, due to the weakening of the dollar and the run-up in petroleum prices in recent years. That's why Kole, in addition to its dollar store line, is selling a line of products priced at $5 to $10 per item. "We take a rather simplistic but effective approach to each of the items we sell," says Kole. "We look at it and ask ourselves, 'Is this item a great deal for this price?' If we think it is a great deal, we buy it. If we do not think it is a great deal, we don't buy. We want shoppers to walk out of the store and say, 'Wow, I got a great deal on that item'."
Even as Kole Imports has grown into a large company, the one thing it hates is to lose a customer. One way they have found to make losing a customer a rare event is to give the customer the best advice on any product. "We look at our customers as our partners. That may sound corny, but we are clear on one reality; if our customers don't do well, we don't do well. Our slogan is, we are, 'Your Profit Source.' Every person from the sales department to the shipping department understands what that means to us," says Kole.
For its first 23 years, Kole was primarily an import/export company. "We have changed that in recent years, so that we are a closeout company as well," says the president. "Last year, 20 percent of our sales were closeouts. That is a giant shift in two years. We have a whole staff looking for closeouts."
Another big change Kole Imports made to its line is the addition of Promo Pallets, which are prepackaged displays of merchandise. At trade shows around the country, mainstream retailers often came into the Kole booths to declare that they loved the Kole product line, but did not know which items to buy or how to display them. The company solved both problems with the addition of Promo Pallets, which are displays available in different sizes: starter pallets, floor displays, counter top displays, premium item pallets and dump displays. Pallet categories include automotive, general merchandise, tools and hardware, housewares, lawn and garden, pet supplies, school and office and toys.
Here are a few examples of Kole's best sellers in this area. Kole offers a 200 piece Pet Dump Display of cat and dog collars, leashes, rope toys, cat toys and other great selling everyday dog and cat items. The wholesale price of this display is $138, or 69 cents per item. Another bestseller is the Garden Starter Pallet 768 pieces. This pallet contains home and garden supplies such as work gloves, auto sprinklers, hand tools and much more. The wholesale price of the pallet is $529.92, or 69 cents an item.
"If a retailer has 50 stores, they can make a decision and perhaps put one pallet in each store for a quick promotion," says Kole. "The great thing about these pallets is that it takes literally less than a minute to open the box and set up the display. This merchandise is priced to allow the retailer to sell it for $1 retail, and still make a healthy margin."
After 25 years in business, Kole Imports is still going strong, sourcing great products, coming up with new ideas, and preparing for a long and successful future.
Interviewed for this article:
Danny Kole, president
Kole Imports
24600 Main Street
Carson, CA 90745
Toll Free: 800-874-7766
Website: www.koleimports.com