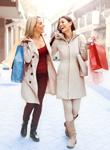 Late summer and fall apparel buying has begun as retailers gear up for the summer trade show season and Las Vegas Fashion Week, culminating with New York Fashion Week in September. In the coming months, there are plenty of opportunities to snatch up mid-season deals to restock your shelves and get ahead with buys for the new season.
Soak Up the Sales
Now that we're in the heat of summer, it is easy to see which trends are truly taking off and which ones might have missed the boat. In addition to being able to make more targeted purchases, you can likely get better deals on warm-weather products. Taking advantage of last-minute looks and higher margins is an easy way to keep your sales coasting through Labor Day.
Getting Wind of Winter
Fall fashion week back in April shed some light on trends to come this fall. Oversized shearling, beige, and muted floral patterns took the stage in most major collections. In addition to clearing out remaining summer inventory, wholesale suppliers are starting to debut fall product lines.
Even if you're not ready to make the plunge on trends for the upcoming season, it's a good idea to start your merchandise buying early to spread out the cash flow burden and make sure you're stocked in time for the back-to-school rush. Unlike the summer season which is known for riskier looks and bolder colors, fall styles tend to remain classic. As the weather gets colder, customers look for comforting staples like denim, cashmere, and flannel in neutral and jewel-toned shades.
Tools of the Trade
The next two months are jam-packed with shows and exhibits for retailers to snag deals on wholesale pricing and get inspiration for the final months of 2017. Here is the scoop on some of Independent Retailer's favorite sources:
ASD Marketweek
This 9-shows-in-1 event includes a reputable apparel show as well as impressive fashion accessory and cash and carry sections. Short for "Affordable Shopping Destination," ASD is sure to offer new styles and low prices.
July 30th – August 2nd
Las Vegas Convention Center
www.asdonline.com  
---
NY Women's August
Accessories the Show, Moda, Fame, and more all gather at the Javits Center in New York City for a comprehensive apparel and accessories buying event with options for every price point. The shows feature seasonal products; so all your purchases will be ready to hit your store's shelves immediately.
August 6th – 8th
Jacob Javits Center
www.UBMFashion.com
---
OFFPRICE Show
OFFPRICE brings together a diverse group of manufacturers, resellers, distributors, and more all with one thing in common: quality apparel 20 – 70 percent below regular wholesale rates. Retailers can find great deals on major label and non-branded apparel.
August 12th – 15th
Sands Expo Center
www.offpriceshow.com
---
MAGIC
MAGIC is an all-encompassing fashion marketplace spanning the Las Vegas and Mandalay Bay Convention Centers. The many exhibits cover men's, women's, juniors, and children's apparel, footwear, and accessories. This show features fast fashion, contemporary, and luxury price points.
August 14th – 16th
Las Vegas and Mandalay Bay Convention Centers
www.UBMFashion.com