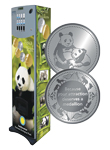 Medallion Vending Fun makes an offer that's hard to refuse: destinations like zoos, museums, and aquariums that are interested in its program need make no up-front investment to start carrying its products. Instead, Medallion foots the cost of a custom vending machine, design work, and the creation of custom medallions. When the machine goes online, the company shares the profits. In other words, there's zero risk.
"There is no investment required," says Dennis Keijzer, company co-owner. "We supply the machine on a contract basis. The standard contract is two years. There are no set-up fees or lease programs." Medallion Vending Fun offers standalone vending machines that sell customized medallions featuring a design unique to your destination. For the National Zoo, for example, the company designed a panda-themed vending machine that celebrated the panda cub Bao Bao. Not only are the medallions customizable, but the vending machine itself can be customized so it fits seamlessly with your theme.
"When we did the National Zoo machine, we came up with several designs featuring Bao Bao," remembers company co-owner Jocelyne Keijzer. "They picked the one they liked and we created the design on a medallion." The medallions are made from nickel-plated steel, but they are also available as gold-plated.
One of the strengths behind the vending machines, says Dennis Keijzer, is that they can be placed anywhere, indoors or out. As a result, the best places are typically away from competing retail outlets like gift shops.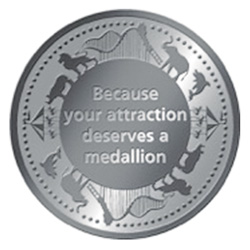 "We tend to put our machines near the area where people are, and we look for places that are high traffic but far away from existing retail," Dennis Keijzer says. "We'll actually look for hallways, for example, where people have to walk through, or outside restrooms where people congregate. It's all about exposure, because this is an impulse purchase."
In addition to designing the medallions and machine and handling set-up, Medallion Vending offers a turnkey program where they will also make sure the machine is continuously stocked with medallions. Alternatively, if you have a large staff of people on foot, like at a zoo, it's easy to train your employees to maintain the machine.
The total time to have a Medallion vending machine installed, including design time on the machine and medallion, is about 6 – 8 weeks from contract signing to delivery of the completed unit.
How to Buy
Medallion Vending Fun machines are created in partnership with the company. Once a company has signed a contract, the collaborative design process begins. The finished machines take cash and credit cards.
Medallions generally retail for about $3 each, unless they are gold-plated, in which case they retail for $7 to $10 each. The amount of profit sharing depends on several circumstances, including any service support, so call the company for more detailed information.