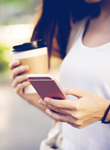 By Margie Kupfer
Mobile marketing has had an enormous impact on how brands interact with marketers in 2016. Popular trends in the mobile gaming, mobile wallet and social media-marketing sphere had major influences in the way that marketers reached their audiences.
As we look forward to 2017, brands will need to think about what the next big things in mobile marketing will be and how they can harness that momentum and use it to their advantage.
Mobile Coupons are the Future of Discounts and Deals
According to a recent study, the majority (36%) of brand marketers surveyed said that one of their main focuses for the coming year will be mobile coupon delivery. Mobile coupons are useful in many industries, from clothing stores to restaurants to grocery stores. This system for delivering coupons is the simplest and most convenient way for customers to get the deals they want without having to clip coupons from the Sunday paper.
Studies have shown that almost half of shoppers will pass on purchasing an item if they forgot to bring their coupon. Mobile coupons solve this problem by allowing the customers to have the coupon readily available on their mobile device.
Mobile coupons aren't only great for the customers. Brands that utilize this strategy will see an increase in foot traffic and basket size, amplified redemption rates, and an increase in customer lifetime value.
Mobile Wallet
Although still relatively new technology, mobile wallet payments are becoming more popular through programs like Apple Pay and Android Pay for smartphones. Now marketers are switching gears to thinking about these mobile wallets as a marketing channel as well.
Mobile wallets allow marketers to have a constant presence on the consumer's device. When a customer opens their mobile wallet they can see promotions for their favorite stores via a downloaded digital coupon or a virtual loyalty card. With the addition of location detection that mobile wallets enable, customers can receive relevant messages about deals that are near by.
The Challenge Marketers Face
Many brands are hungry for new marketing strategies that will increase their mobile footprint. The problem lies with their ability to actually deploy those tactics. IT skillset and integration resources remain the biggest hurdle preventing brands from implementing new mobile marketing strategies. Research states that about 26% of marketers lack the IT resources that would allow them to make more investments in mobile in 2017.
Finding Your Starting Point
In order to maximize a brand's impact through mobile marketing, marketers must first identify what strategies will work best with their customers. Test out a few different tactics in a limited number of stores. Mobile coupons may blend seamlessly with a store's current coupon offerings or maybe offering a loyalty card via mobile wallet makes more sense. In a world driven my mobile devices, to pass on mobile marketing is to pass on a large portion of potential revenue.