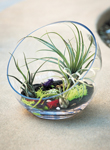 Unrooted Plants offers a line of beautiful air plants that are customizable and easy to maintain. Terrariums have seen a resurgence in popularity as consumers are becoming more health conscious and in tune with nature. Like houseplants, terrariums are said to have many health benefits including reducing stress and anxiety, purifying air, lifting mood, balancing humidity levels, and more.
Unrooted Plant's terrariums are endlessly customizable; retailers and end customers can design and build their own globes. Once built, the globes are extremely durable, even for those without a green thumb. This means the terrariums are also easy to maintain in the retail environment.
These plants absorb their nutrients from the air through their leaves, not through roots, which is what allows them to thrive in a variety of holders and circumstances. They can survive through a range of temperatures. They grow in all directions including upside down, thrive in almost any kind of casing including shells, cork, vases, and driftwood. Unrooted plants survive through under or overwatering, and do best with partial sunlight within ten feet of a window. The products are also non-toxic to animals.

Unrooted plants are perfect for livening up office spaces, as low-maintenance houseplants, and as creative decoration. They make an interactive and engaging display for a variety of stores and retail settings. Retailers looking to bring Unrooted Plants into their stores can either create their own custom plants or can purchase a start up or turnkey package which allows store customers to build their own globe.
Customized and turnkey packages both offer high markups for retailers. To discuss pricing and ordering options, please call 888-315–1542.