by Meaghan Brophy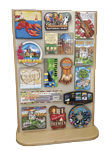 Name-drop and customized merchandise are a classic success story for tourist destinations, zoos, and museums. Visitors love bringing home memories of their trips, or mementos for those who could not make it. Few things serve this purpose better than items with the location name emblazoned across in plain view. Whether it's t-shirts, magnets, glassware, key chains, postcards, you name it, customers are drawn to these items because they serve as a memory, and feels like something they won't be able to find anywhere else.
Custom products are perfect souvenirs. If your store is near to a popular attraction, or in a town that is proud of their community, incorporating custom items can go a long way in driving additional revenue to your store.
However, personalized and customized items are not just for tourist attractions. In an increasingly digital and mass-produced age, consumers are seeking products tailored to their needs, and they prefer to build meaningful connections with their favorite stores. When it comes to marketing to Millennial customers, this demographic, above all others, craves experiences and products that are meant just for them.
Share a Lesson from Coke®
The most obvious example of this Millennial-targeted marketing technique is Coca-Cola®'s Share a Coke® campaign. Thousands of different names graced the label of Coke® cans worldwide for over two years. The campaign brought together families and friends, and reinforced the public's love for the iconic Coca-Cola® brand. Business Insider® lists Coca-Cola® as the 10th most popular brand for Millennials in 2015, while competitor Pepsi® was ranked 15th.
If Coca-Cola® can sell more soda and foster brand loyalty by placing individual names on their product, surely other retailers can sell more merchandise through a similar concept. People get excited when something has their name on it. Seeing your own name elicits feelings of inclusion and belonging; exactly the kind of feelings you want customers to experience in your store.
Create a Luxury Feel with Monograms
An alternative to traditional name-dropping, monograms have been subtly fluctuating in and out of style for centuries. They have been around since the Ancient Greeks, and are still an important part of today's society. This type of personalization is an excellent option for apparel or accessory retailers. Traditional three letter monograms invoke a sense of royalty and sophistication, while the single letter monogram offers a more casual and fun alternative. Luxury retailers such as Coach® and Goyard® offer customized monograms on their iconic bags. Personalized three-letter embroidery is a marketable option for boutique, specialty, or even kiosk retailers as an easy way to provide added value to customers and an experience that feels exclusive to your store.
Mass-market retailers such as Express® offer laid back single initial apparel. Anthropologie® offers monogrammed jewelry, glassware, and home goods. Whether you are an apparel, accessory, general merchandise, gift, toy, or convenience retailer stocking some of your staple items with an initialed option is an easy way to boost sales and customer loyalty. Unlike the traditional three-letter monogram, the single initial is something you can purchase from suppliers as-is and restock accordingly.
Building Emotional Connections with Souvenirs
Zoos, aquariums, theme parks, beaches, monuments, national parks, sporting events, major cities, the list goes on. People crave adventures, traveling, and experiencing the world outside of their day-to-day lives. Whether a major life event or a happy memory, people want something tangible to bring home with them to keep those memories and emotions alive. As a retailer in, near, or around these attractions, providing a wide variety of customized every day items such as glassware, key chains, and picture frames in various colors and styles will boost sales and keep visitors happy.
Brick and Mortar Advantage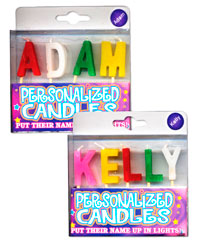 Any type of name-dropped or custom product is especially ideal for brick and mortar retailers, because in addition to enhancing the customer's engagement level with the store, it also facilitates impulse purchases. Shoppers encounter their name or their initial, and the impulse is to purchase that item. Seeing the item in person has a psychological effect on buyers because they feel like it already belongs to them. Visitors purchase souvenirs while on vacation or travelling not because they planned to, but out of impulse. Souvenirs are a great way to show loved ones you were thinking of them, or to trigger specific memories for yourself. Shoppers generally do not go searching for a particular named or custom product, but when they encounter one it is hard to resist.
The impulse psychology behind name-dropped items means that proper merchandising is as important as ever. The items need to be in a readily visible and accessible area of the store to maximize the amount of buyers drawn to them. Depending on the merchandise this can be a counter display, front of store rotating display, wall display with signage, or a display positioned next to a best-selling item that already draws many customers. Keeping the display well stocked is also essential for having a positive revenue impact. Just as buyers are excited to find their own names, they can be equally disappointed to find their name is missing or sold out. Likewise with destinations and attractions, having a variety of colors and styles is essential to further customize and appeal to all buyers. Organization is important. If many names, initials, or colors are stocked, but haphazardly placed or mixed up, it could lead to a lost sale simply due to buyer frustration at not easily finding what they want.
Boost Loyalty on the Web
Though brick and mortar stores have the advantage in creating a tactile experience, online retailers have a different strength when it comes to providing personalization. A Forbes® survey shows that shoppers who customize products online engage more with that company. They visit it's website more frequently, stay on the page longer, and are more loyal to the brand.
Whether you're a brick and mortar, online, or multichannel retailer, there are name-drop and customized products to best fit your store and your customer demographic. To help you get started in selecting the best options to boost sales for your business, Independent Retailer has gathered some of our favorite reputable name-drop and custom suppliers to offer insight and product recommendations.
The Name People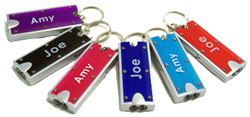 Based out of Portland, Maine, The Name People offer a variety of low-cost personalized items. Their programs include pens, keychains, lanyards, notebooks, iPhone cases, ribbons, coin purses, magnets, and holiday ornaments. "Personalized products are the number one impulse sale in the retail industry," says Joe Pirruccello General Manager of The Name People. "Everybody likes to see something that they can relate to with their name on it." Customers also like to share these products with friends and family. "They make a good gift, as you can give the same item to different people but it is still personalized," explains Pirruccello. "Personalized products generally sell 4-8 pieces at a time."
Traditionally, The Name People's best-selling programs are their Christmas ornaments. New for this year, The Name People are releasing a personalized light program. This product is a battery-powered string of lights that spell out different names. The lights come in an array of colors, and will be available for ordering in late spring.
According to Pirruccello, their products typically do best in souvenir, convenience, Christmas, and gift stores. There are no minimum orders and all items are shipped from their warehouse within two to three days. To view The Name People's product collections, visit www.thenamepeopleusa.com.
Focus on Souvenirs
"We like to say we don't sell souvenirs, we sell memories," explains Focus on Souvenirs Co-President Teresa Dixon. "Visitors who have had a memorable experience at a museum, theme park, zoo, aquarium or resort want to take a little bit of that home with them. If a souvenir can remind them of some unique aspect of their visit then guests are inclined to purchase these types of items, creating an obvious demand for them in the marketplace." To meet this demand, Focus on Souvenirs specializes in designing and manufacturing merchandise that is exclusive to each of their venues and customers. "We go beyond name-dropping by creating products that incorporate specific visual elements, icons, and imagery that are unique to each customer's attraction or location," says Dixon.
Focus on Souvenirs' lines of customizable products include pins, key rings, various magnets, patches, ornaments, hiking medallions, jewelry, and PVC products. Their best-selling items are their wood magnets. "They can be cut into any shape and have a nice large surface area where the artwork can really come to life. Because they are printed using a 4-color process, photographic images can be used, as well as designs using fades, shading, gradients, and detailed elements," explains Dixon.
Dixon also suggests that retailers offering custom items for the first time start with their wood magnets. "They are proven sellers and really unique items," says Dixon. "The minimums are low, and there are no set-up or dye charges, which makes it reasonable for a customer to try out custom products." For all retailers carrying custom or name-drop items, Dixon recommends dedicated racks with magnet panels and pegs for key chains, pins, patches, and ornaments. "It's very important for customers to see and touch our type of products and really make a visual statement. We've found that when our products are placed in bins or boxes they can get lost in the mix."
"Overall, customers look for what is different," explains Dixon, "not what they can find on every corner. Convenience and general merchandise retailers can easily leverage custom products with designs that use location-specific imagery, or items that are creatively designed. Anything that is unique and different will be attractive to customers."
To view Focus on Souvenir's wood magnets and other customizable products, visit www.focusonsouvenirs.com.
Kalan LP
Kalan LP has been in business for over 43 years as a family owned and operated company. Their client base includes over 50,000 retailers and the company offers over 8,000 product lines. Kalan LP's name drop and custom programs include candles, balloons, lanyards, confetti, and more. Dan Shoemaker of Kalan LP, advises the most important thing when offering name-drop items is to make sure you can keep up with the inventory management, and that you have the foot traffic to support it. "You constantly have to balance how fast things are moving with inventory space," says Shoemaker. He advises retailers to consider how much product can be sold per square inch, and to define your best customer demographics. Name-drop displays have the potential to take up a lot of space due to the number of individual names contained within a single display. "Stickers, toothbrushes, magnets, key chains, sticker books, and notepads all do well and you can stack them close together," says Shoemaker. When considering demographics, "if I'm selling a kid's bracelet, I want it to be bright colors and a popular name for the 3 – 12 age group. If I'm selling a lanyard or coffee cup, then the artwork is going to be older and fit that age group," he explains.
In addition to products and designs, it's also important to consider what names you are stocking. "If I'm a buyer, I want to know from my supplier how often they update their name list. It's really important to consider age and geography," says Shoemaker. Name-drop and custom products may require more accurate inventory tracking and maintenance than other items, but the effort is well worth the results. "Our retailers that have name-drop and custom products have done extremely well," continues Shoemaker. "Name programs sell, and it's really all about profit."
To view their selections, visit www.kalanlp.com.