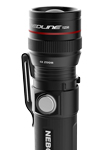 NEBO is part of a family owned and operated company, Alliance Sports Group, that was founded over 40 years ago by two brothers who still manage the company today. "NEBO is one of the largest flashlight companies in the world," says Kurt Baxter, VP of Marketing. "We offer the latest in innovative lighting, including flashlights, work lights, and other light tools. Our primary distribution is through independent retailers."
NEBO carries a variety of durable and practical LED light products. Their bestselling item is the SLYDE. This product has a LED flashlight and a 190-lumen work light hidden in the body of the flashlight. "The SLYDE is a hot selling light," says Baxter. "It's an easy sell for retailers." The BIG Larry work light is another top seller. It features a bright LED light capable of lighting an entire room. It also has a low mode and an emergency red flash mode.
In addition to work lights and flashlights, NEBO carries a variety of firearm, fishing, biking, and safety products. Their most popular accessory is the CaseBrite. The CaseBrite is an iPhone case with a built in LED light 12x brighter than the standard smartphone light. The case contains an internal, rechargeable lithium-ion battery so it will not draw from the iPhone's power supply.
The SLYDE, BIG Larry, and CaseBrite all utilize C-O-B LED technology. "C-O-B or Chips on Board is a new innovation in LED technology featuring smaller, easier clustered LED chips that are mounted directly on the circuit board," explains Baxter. "These LED chips work together as one lighting module. Because of the compact design, C-O-B outperforms traditional lighting by up to 50 times the light output per centimeter of light."

LED products are very popular right now. Baxter says NEBO's innovation, design, and merchandising are what separate them from the competition. "NEBO introduces 6-10 new products every year. We design and manufacture the products ourselves to capitalize on advanced technology, consumer appeal, and great margins for retailers," explains Baxter. Their designs focus on both aesthetics and function. "Consumers recognize this as being unique to NEBO," he continues.
In addition to supplying customers with new products and innovative designs, NEBO also assists with merchandising efforts. "We have POS and countertop displays created to optimize impulse sales, which maximizes the profitability of valuable countertop real estate," says Baxter. "Remember the key to flashlight sales: men love flashlights. However, few come into a store planning to buy one. Flashlights are mostly impulse purchases so they need to be merchandised near the counter, register, or other high-traffic areas. You will sell many flashlights if you follow this basic guide."
The majority of NEBO's products are in the $10 – $30 MSRP range. Retail margins are typically 45 – 50%. Currently, NEBO is offering a free sample of their best-selling products to qualified retailers. First-time orders receive free shipping. Free shipping on secondary orders is available for qualifying purchases. Their wholesale minimum order is one case of any item. NEBO also has a Guaranteed Buyback Program. Conditions apply, however NEBO will buyback remaining unsold merchandise and pay for return freight after 90 days.
For additional information or a free sample, visit www.NeboTools.com.